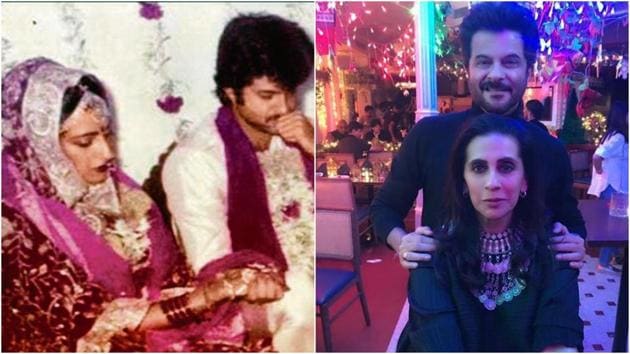 Anil Kapoor on wife Sunita's refusal to pose for a magazine cover: I almost fell at her feet ki 'photo lele yaar'
Anil Kapoor has completed 35 years of marriage with wife Sunita. The actor talked about choosing between career and love.
Hindustan Times | By Rishabh Suri
UPDATED ON MAY 19, 2019 11:27 AM IST
Married for 35 years, and dating for 10 years before that... actor Anil Kapoor completed 45 years of togetherness with wife, Sunita Kapoor, today. Here's Anil in a freewheeling and exclusive conversation, recalling and revealing tidbits about his love story.
What's the story behind your marriage?
I fell in love with her voice first. I thought 'oh God, what a beautiful voice yaar, kya English bolti hai, pronunciation is so well'. I met her for the first time at Raj Kapoor's house. She was so attractive, and if I may say, sexy also… she wore these gogo glasses, which are big, round and rimmed. Then we started chatting on phone, and our friendship grew. First it was a very platonic friendship, which developed into love. I started missing her when she wasn't around. I had to speak to her, I felt a vacuum. I would travel by buses to meet her.
What was that point which made you take the plunge?
When I felt that I will be able to financially support her. She had made it clear 'I won't go in the kitchen, I am not going to cook for you'. I never expected her to cook for me. I thought I should have a lot of servants, and a good chef in my house. I am a Punjabi, I am fond of food. Also, another point was that when I felt I can have a home. All my life, I was happy, we lived in a rented home. When I was a kid, my family stayed in a small little place. Then one room, and then two bedroom hall. But all of them were rented, we could never afford to buy it. I needed a chef, a cook, and then I proposed to her and we got married.
A notion attached to Bollywood was that young actors were dissuaded from getting married. Did that happen with you too?
I was dissuaded, (people said) it was hara-kiri for me to get married. I came to a situation where I was at crossroads — career or love. I had started getting work, but everyone said 'you are doing well, and your career has just started. You are climbing the ladder of success, and now that you are getting married, you are going to come down.' I had to make a choice — either come down, or get married. I said I don't mind coming down, but I will not sacrifice… she's more important for me. It's a fact, I am not faking it.
So while you were busy working in films, she decided to stay at home and take care of your children, Sonam, Rhea and Harsh Varrdhan…
She was not one of those wives, she was always working. When we were not dating each other, she was a model. A banker's daughter, she always supported herself, and never took money from her parents. That's one of the things I respected a lot. She said 'When I am going to get married, I will come in just this one outfit. There will not be one single ornament or jewellery, just one salwar kameez or sari, that's it. Rest we will build ourselves.'
Also read: Priyanka Chopra, Nick Jonas set couple goals at Cannes and now fans want a 'husband just like him'. See pics
She's quite media shy. She didn't give us even one quote for this interview!
She's not media shy, she just doesn't speak to the media. She wants to lead a normal life. I respect her decision, but sometimes, that went against me. I also wanted to project myself in front of the public, have a few (magazine) covers done (that said) 'HAPPY FAMILY' 'ANIL KAPOOR'S WIFE'. Maine badi koshish ki 'I am getting this cover, that cover', almost fell at her feet ki 'photo lele yaar'. What to do?
Follow @htshowbiz for more

Close