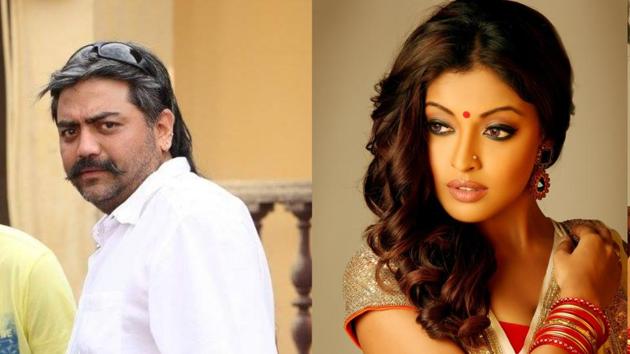 Assistant director turns down Tanushree Dutta's claims, gives detailed account of the incident on sets of Chocolate
Turning down Tanushree's claims, Chocolate assistant director Sattyajit Gazmer has shared a detailed account of the day of the song shoot.
PUBLISHED ON OCT 05, 2018 02:56 PM IST
Tanushree Dutta's shocking revelations about sexual harassment in Bollywood have dealt a huge blow to actors like Nana Patekar. The actor recently also shared details about an incident that took place on the sets of her 2005 film Chocolate. She had accused director Vivek Agnihotri of asking her to strip in order to give cues to co-actor Irrfan Khan for a scene.
Just like the director himself, assistant director Sattyajit Gazmer, has also turned down Tanushree's claims. He has shared his version of the incident in an elaborate post on his Facebook page.
Gazmer has claimed that it was he who suggested Tanushree's name to Vivek and since she had the dates and was a Miss India, she was signed for the part after just a few auditions. He wrote on Facebook, "Vivek sir asked me if she can take the pressure of shooting with big stars so I told him honestly that Tanushree has major mood swings but she was very photogenic and also is Miss India. This convinced the producers. This convinced the producers. Vivek Sir met Tanushree with her manager Bhola Malviya and after few auditions she was signed because only her dates matched."
He added, "She was absolutely fresh and had no idea about camera or technical things. Vivek sir asked his wife Pallavi ji to coach her in acting and technical aspect. Pallavi ji for one month trained her and Sushma Reddy in her own house."
Gazmer has questioned the media of making a hullabaloo over Tanushree's claims of being asked to remove her clothes. He asked, "The third rate media didn't even bother to ask her 'which clothes'?" and shared his version of the incident.
"In the song Tanushree was supposed to be wet under a water leakage from a pipe. I appointed two of my lady assistants and lady costume director and her lady assistant to be around Tanu and give her bathrobe immediately after each take to keep her warm besides the hairdresser Didi. We also put a Multi light to keep her warm," he said giving a minute-by-minute account of the day 3 of the song shoot.
Talking about the particular scene in question, Gazmer said, "When we called Tanushree she did her rehearsals in the bathrobe. When the Dance Director Remo got ready for the shot one of my assistants asked her to take off the bathrobe. She asked why should she if it's Irfan's Close up. The assistant tried to explain to her but she didn't understand that she was in OS (Over the shoulder) shot of another camera. Then I was called and I explained to her. She didn't understand that in multiple camera set up the main camera can be on someone's close but other cameras were shooting her. I asked to take off her bathrobe and shoot in film costume which she was anyways wearing under the bathrobe. It's a pink colour dress which anyone can check on you tube. The song was "Bheega bheega sa December hai".
Calling Tanushree's version false, Gazmer said, "If she was sick then she should have told me. We have all worked in films for more than 25 years and have shot many songs and music videos with actresses in skimpy clothes and all kinds of awkward situations but it is beyond my imagination that anyone can ever ask an actress to strip on a film set where 200 people are standing."
Follow @htshowbiz for more

Close