Before Thugs of Hindostan, revisit Aamir Khan's most extreme character prep, from Dhoom 3 to Dangal
Aamir Khan has done it all. From nose-piercing to tap dancing to putting his body through hell - all to earn the perfectionist tag. Ahead of Thugs of Hindostan, here's an insight into the preparation he puts into his films.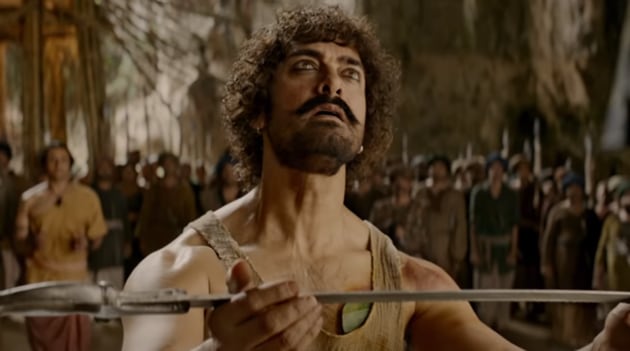 Updated on Nov 04, 2018 02:29 PM IST
Hindustan Times |
, New Delhi
Ruchi Kaushal
Actor Aamir Khan is widely referred to as a perfectionist who goes to all extremes to deliver committed performances. And what makes him worthy of such a title is his unbreakable series of hit films which he has delivered in the last eighteen years, with not a single miss. The last time Aamir failed to deliver a superhit was in 2000, when his film Mela tanked at the box office and made the female lead Twinkle Khanna bid adieu to acting. He still dominates the list of the highest-grossing Bollywood stars, ahead of Shah Rukh Khan and Salman Khan, with his latest big releases, Dangal and PK claiming the top slots. Talking about the effort that goes into his roles, the actor has pushed his limits to achieve his dream time and again.
It was no joke for a 44-year-old to play an 18-year old in 3 Idiots but Aamir pulled it off better than a youngster could. From learning swimming for the 2012 film Talaash to picking up Haryanvi for Dangal and Bhojpuri for PK, the actor continues to acquire new skills with every project. The actor didn't blink at all (literally) while playing an alien in PK and can be seen talking and eating with his eyes wide open. Aamir, however, continues to feel insecure and is afraid of losing his creative abilities one day, according to an interview with Anupama Chopra and Rajeev Masand on the radio show Take 1.
The actor left his fans bewildered when he displayed a permanent nose-piercing while working on his 2018 Diwali release, Thugs of Hindostan. He is no Zayn Malik, but simply an Indian male actor who didn't mind going the distance for a role. The actor plays Firangi Mallah in the film – a thug with no ethics, ready to lick the feet of the one who pays.
During the making of Dangal, Aamir had opted to shoot as the middle aged Mahavir Phogat first, in order to have a purpose for losing the weight later to play the younger version. The actor left his fans worried with his hefty look as he walked around with a towel to deal with the sweating. Though he had a ball while gorging on street food to gain the weight, the actor could be seen panting while shooting the wrestling scenes as the extra kilos slowed him down. The bigger cause for concern was his weight fluctuation from a middle-aged retired wrestler standing at 97 kilos with 38% body fat to an active wrestler in his twenties. The actor himself confessed that this was a risk which could have cost him much more than just the film's collections. He managed to lose it all within five months to play the younger version and flaunted six pack abs by reducing his body fat to just 9.67%.
At the age of 47, the father of three trained in tap dancing under Australian dance choreographer Dein Perry for the film Dhoom 3. An Irish dance form that takes several years to master, the actor nailed a manageable version in just a month. Aamir's two-and-a-half minute intense tap number speaks for itself in Dhoom 3 and can leave you in awe every time you watch it.
The actor has, however, never been fond of weight training or a strict exercise regime due to the pain that comes with it. He prefers sports to keep himself fit. His trainer Satya once revealed in a video about how the entire building would echo with his howls and shrieks when Aamir would be working out at the gym. The actor was 43 and stood at 70 kilos when he signed Ghajini, a film that went on to become a hit in 2008. After working on his body for a year, the actor managed to flaunt six-pack abs and ripped muscles that eludes many even after years of training. The actor even gave up salt and reduced his water intake drastically to achieve those cuts a week before the start of the shoot. For the record, the actor confessed it was an unhealthy practice but refused to bend.
Follow @htshowbiz for more
Close Story