Twitter isn't impressed by Aamir Khan's Thugs of Hindostan's similarities to Johnny Depp's Pirates of the Caribbean
As hard as they try to play down the similarities between Aamir Khan's Thugs of Hindostan and Johnny Depp's Pirates of the Caribbean, Twitter isn't having it.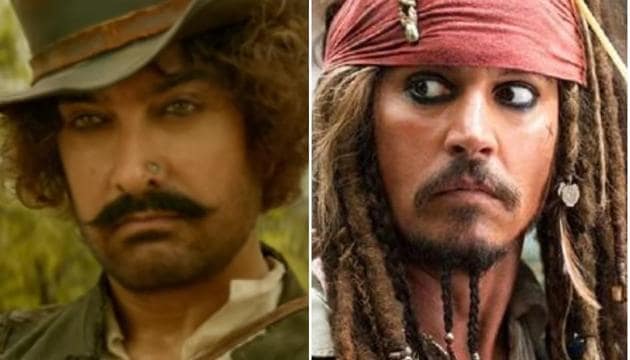 Updated on Nov 02, 2018 10:14 AM IST
A week ahead of the release of Thugs of Hindostan, the film's production designer strongly denied using Pirates of the Caribbean for reference, going so far as to say that he hadn't even seen Johnny Depp's multi-billion-dollar grossing movies.
Speaking to Times Now, Sumit Basu said, "It never came to our mind. Our life was much simpler, we know the period, we know the ships. We are talking about Andalusia, we know those ships and people know there are replicas of those ships floating in the water. So... I never take reference from films."
In 2017, Aamir himself had distanced the film from Pirates. "There are some hundreds of action adventure films. There is Pirates of Caribbean, there is Indiana Jones and many others. All these are action adventure films. So the genre of our film is action adventure but the story is different. Even my character in the film is not similar to any other character," he said at a chat show.
But the internet doesn't quite agree. Ever since the first trailer of the film dropped, comparisons have been made to the similarities between Aamir Khan's character and Johnny Depp's Captain Jack Sparrow. Not just that, fans have also pointed out that a lot of the film's action looks similar to the Pirates movies, with some characters even being thought of as Indian versions of Pirates characters.
Here are some reactions online:
Thugs of Hindostan has been scheduled for release on November 8, just in time for the Diwali holiday weekend. The film is expected to be a major box office success, with pre-sales opening a week ahead of release, including IMAX shows. Meanwhile, it was recently reported that Disney is looking to reboot the Pirates of the Caribbean series without Depp, whose career and personal life is going through a tumultuous phase.
Follow @htshowbiz for more
Close Story