Deepika Padukone furious over goons who destroyed artist's Padmavati rangoli
Updated on Oct 18, 2017 05:28 PM IST
Deepika Padukone is angry at how a mob destroyed the artwork of a rangoli artist who recreated the film's poster in colours.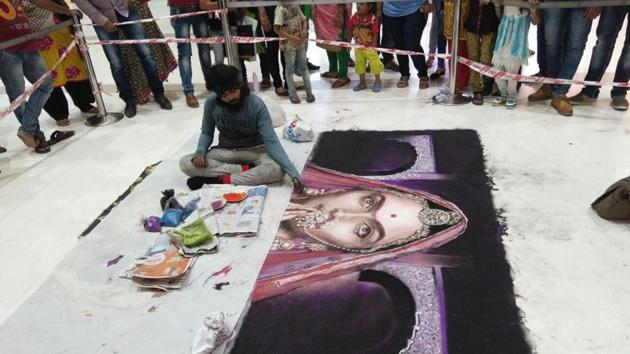 Deepika Padukone has tweeted against the mob of people who wrecked an artist's rangoli in Gujarat. The artwork was made as a tribute to her character in upcoming film Padmavati.
Rangoli artist Karan K made the massive design with colours on the floor of mall in Surat. It took him over 48 hours to complete the artwork. He tweeted on Sunday that within three hours of finishing the job, a mob chanting 'Jai Shri Ram' marched all over the rangoli and destroyed it completely.
Deepika too shared her disappointment and anger at the goons. "Absolutely heart breaking to see the recent attack on artist Karan and his artwork!disgusting and appalling to say the least!," she wrote in a tweet. "Who are these people?Who is responsible for their actions?For how long are we going to let this go on?... Allow them to take law into their own hands and attack our freedom and right to individual expression time and again!?," she added.
The actor even tagged Information and Broadcasting minister Smriti Irani in her tweets, "This has to stop NOW & action must be taken!@smritiirani."
The film has been on the radar of Karni Sena and the Rajput community since it was announced a year ago. Director Sanjay Leela Bhansali was assaulted on sets of the film by a mob in April in Jaipur and several costumes and set pieces were also set on fire.
Shri Rajput Karni Sena, an organisation of the Rajput community, has said it will oppose screening of the film if facts are "distorted" in the film. "Around 20 days back someone from Bhansali's team had called and told us to see the film, but we asked them to show it to historians and intellectuals. After that we have not heard anything from them," said, Lokendra Singh Kalvi, patron and founder of Shri Rajput Karni Sena.'
The film is scheduled to release on December 1 and also stars Ranveer Singh and Shahid Kapoor.
Follow @htshowbiz for more