Football is coming in a big way, I hope it defeats cricket: Akshay Kumar
Updated on Sep 27, 2016 08:22 AM IST
People are responding to sports in a big way shares Akshay Kumar. The actor says that its only a matter of time when India will have their team, representing world football. Also emphasising the role of parents in providing the right encouragement, the actor says that parents have to be a role model to their children.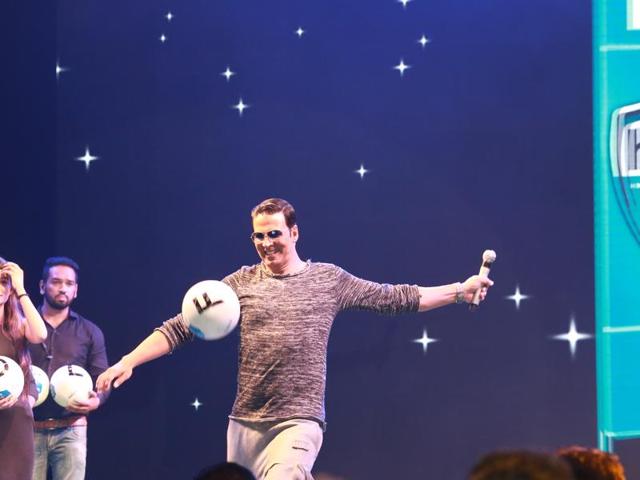 He came, he played, he charmed. Actor Akshay Kumar set the ball rolling, quite literally, at the opening ceremony of Hindustan Times' GIFA — Great Indian Football Action season 3 at Delhi's Thyagaraj stadium on Saturday. "Football is coming up in a very big way, and I hope it defeats cricket," said the actor, to the cheering crowd comprising thousands of participating kids. On the subject of sports becoming a viable career option in India, Akshay said, "Not far are those days when India is going to come in the big league and be on the world map of football, because the speed at which it is becoming popular in India is too fast." "Thanks to HT GIFA for bringing football to Delhi. I hope they do it in all other states also. It makes youngsters think that you can make career out of it," he added.
Supporting the idea of a cash prize for the winning team, apart from a coveted scholarship with the Arsenal Soccer School, Akshay said, "I like the fact that in HT GIFA, jo jeetega usse paise bhi milenge. When children go back with some money in their hand, the parents see it as a future career option." True to the spirit of the argument, Akshay also kicked the ball eight times in the stadium crowd, with each winner who caught it, getting Rs25,000.
That sports is Akshay's Kumar's way of life is no hidden secret, but did you know that his favourite team is Manchester United and among his much loved players are Lionel Messi and Cristiano Ronaldo. "I don't know how anybody can live without sports. It's important for fitness in life, and a big stress buster," he says. While Akshay donned the role of a cricketer in Patiala House(2011) we ask him which sport would he next like to make a film on? "I would either go for martial arts or a film on Kabaddi. There has not been a Bollywood film on kabaddi and it'll be nice to see how the world responds to it."
A doting parent himself, Akshay often plays football with his 14-year-old son, Aarav, and says the role of parents in encouraging their child towards sports is extremely important. "Sometime parents think ki mera bachcha khelta hi rahega, padega kab? Jitni padai zaroori hai, utna khelna bhi zaroori hai. (It is as important to play, as it is to study). I would say it's equal. Pade bhi zor se aur khele bhi zor se. It's very important for children to play and get into sports because hamare yahan sports ke andar bahut kuch ban sakte hai. My son watches me, ki mere pitaji aise karte hai. Woh dikhate nahi hai, but the kids observe you and it remains in their head and they follow you."
Personalise your news feed. Follow trending topics