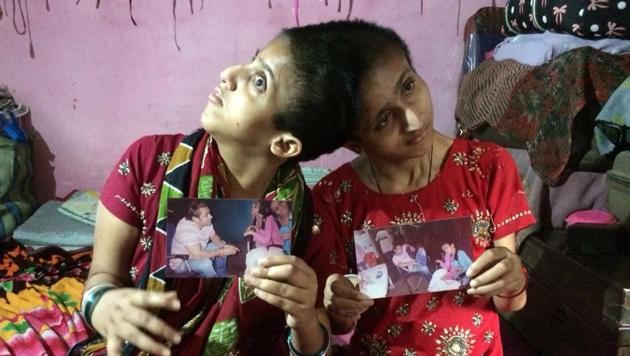 For bhai: Conjoined sisters from Bihar want to join Salman Khan in jail
The twins, who are joined together at the head, reside in Samanpura locality of Patna. They are sad after the verdict in the blackbuck case.
Hindustan Times, Patna | By
Nandini
UPDATED ON APR 05, 2018 08:52 PM IST
Saddened by the five-year jail term awarded to Bollywood superstar Salman Khan, two conjoined twins from Bihar who consider themselves his rakhi sisters have expressed the desire to join him behind bars.
Both Saba and Farah, now 23, maintain that Khan is innocent. "This is so sad. Put us in the same jail please," said Farah.
The twins, who are joined together at the head, reside in Samanpura locality of Patna.
Saba and Farah always identified themselves as great fans of Khan. Eight years ago, upon being informed of their craving to meet him, the actor sent flight tickets across and arranged for their stay in Mumbai. It was thus that the girls got the opportunity of a lifetime in a city famed for making dreams come true.
Read: Salman Khan on what happened that night: Blackbuck was petrified, fed it biscuit
As Khan met Saba and Farah on Rakshabandhan day, the two tied rakhis on his wrist. While the actor made the symbolic promise of safeguarding his "sisters", the two also became protective about him. "We have been praying for him for the last eight days. The verdict came as a shock to us because bhaijaan is no criminal," said Saba. She has refused to eat or drink anything until the actor gets bail.
The two sisters had also gone on fast when the 2002 hit-and-run case came up for hearing in the Mumbai high court in May 2015.
Read: In pics: Salman Khan inside Jodhpur Central Jail
"Bhaijaan can never commit such a crime. He is being victimised… a conspiracy has been hatched against him. Now that he has been sent to jail, we want to be there with him. Please send us to prison too," an agitated Farah said.
Despite regular treatment, the twins cannot be separated through surgery as they share kidneys and blood vessels. Their parents have also denied permission for any such procedure, fearing a risk to their lives.
The Supreme Court had stated in 2013 that it was "not in a position" to order the surgical separation of the conjoined twins due to resistance from their parents.

Close