Nora Fatehi: I don't care about Angad Bedi's closeness to Neha Dhupia; it really doesn't concern me
The latest rumour in Bollywood is that Nora Fatehi and Angad Bedi have parted ways after Neha Dhupia's entry in his life.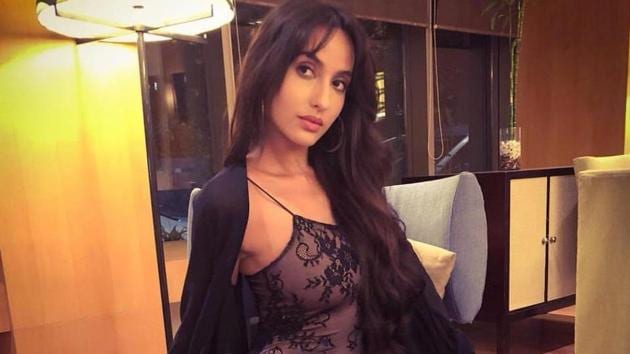 Updated on Mar 16, 2018 06:02 PM IST
Hindustan Times |
, New Delhi
Monika Rawal Kukreja
While Nora Fatehi is in a happy space after making her Bollywood debut in a lead role with My Birthday Song this year, her personal life, it seems, has retaken the forefront, putting the spotlight on her rumoured relationship with actor Angad Bedi. While the two have never admitted to being in a relationship, recent reports suggest that they have called it quits and it's because of Angad's growing closeness to actor Neha Dhupia..
Ask the Moroccan-Canadian actor about the truth behind this, and she says, "There's nothing really to say about this because we were never together, to begin with. And I am least bothered by all this stuff [rumours]."
But then, there's no smoke without fire! Nora clarifies, "I'm not the one creating the smoke and the fire, let's put it this way. I've got my head down working hard while others are chasing other frivolous things."
+ +
While Angad and Nora have made several appearances together — Yuvraj Singh's wedding, each other's birthday bashes and being the showstoppers at fashion week — they've always maintained 'just friends' status. So, has this friendship gone bitter? "I welcome people into my life. If they are genuine, they will stay, and if not, they might just leave. Hypothetically speaking, that's their loss. I keep it moving. For me, my work, family and fans are the most important; rest is just there," says Nora.
+ +
As for Angad's equation with Neha, the two are frequently spotted together and have been quite vocal about their fondness for each other on social media. "Honestly, I don't care about Angad's closeness to Neha. It really doesn't concern me and I've got better things to worry about" quips Nora.
Saying that she is "friends with everyone", Nora adds, "I don't care about who is close to whom and who chills with whom when it suits them. I don't have time for all that. Everything is just fine. And I understand it's normal for people to be interested in what's happening in our [actors] personal lives; it's a part of the package."
Nora asserts that right now, her only "focus" is on her career and nothing else. "I am too busy building my name in this county. I'm looking forward to this year, as I have a lot of things in store for my fans, so I'm prepping for that. I'm closing some projects, so workwise, it's going to be an amazing year," she signs off.
Interact with Monika Rawal Kukreja at Twitter/@monikarawal
Close Story