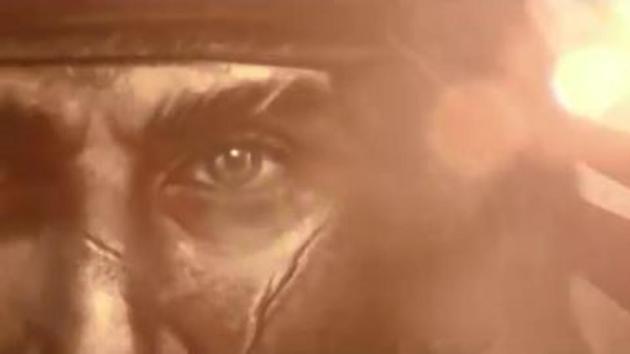 Ranbir Kapoor plays a dacoit in YRF's Shamshera. Watch the shocking first look
Shamshera first look: Ranbir Kapoor is the ultimate urban Peter Pan, or is he? His first look as a daku in a period film proves the actor is ready to go where he has never gone before.
UPDATED ON MAY 07, 2018 11:47 AM IST
Is the daku thriller back in Bollywood? Decades after we saw the likes of Vinod Khanna and Dharmendra taking up roles of dakus and heading to Chambal, films with dacoits as their protagonists have again been announced in Bollywood. Close on the heels of Sushant Singh Rajput's Sonchiriya, Yash Raj Films has announced Shamshera which will see Ranbir Kapoor as a deadly dacoit.
The announcement of Shamshera came with a short video which makes it clear that it will be a period film, for instead of a Bollywood daku's favourite weapon, the donali, Ranbir is carrying an axe and a quiver full of arrows. The film's tagline goes: 'Karm se dakait, dharm se azaad'. Does this mean it will be set in a time when India was still under colonial rule? Well, we need to find out more to be sure of that.
Watch Ranbir Kapoor in and as Shamshera
Ranbir – who is known for his urbane avatar – vanishes into the daku whose face is marred by scars, souvenirs perhaps of all the fights that he has fought. With a bandana on his head and an anklet on his feet, his eyes shine with determination and readiness to take on anyone who comes in his way in the Shamshera first look. He stands in a dusty ground with an army behind him.
Talking about the movie, Ranbir Kapoor says, "Shamshera is exactly the film I was looking for. While growing up watching Hindi commercial cinema, I had an image of what a film hero should be doing. Shamshera allows me to do everything that I had imagined and it's a very exciting project for me. Karan is going to take me completely out of my comfort zone and I'm looking forward to this challenge."
The film will be directed by Karan Malhotra and produced by Aditya Chopra. The actor is also awaiting release of Sanjay Dutt biopic, Sanju, directed by Rajkumar Hirani, and shooting for Brahmastra opposite Alia Bhatt. Ranbir is said to be playing a superhero in the Ayan Mukherji film that also stars Aitabh Bachchan.

Close