Riddhi Sen: The best thing both my parents did was to teach me how to be independent
National-award winner actor Riddhi Sen who plays the role of Kajol's onscreen son in the film Helicopter Eela talks about how was it to collaborate with the supremely talented Bollywood actor.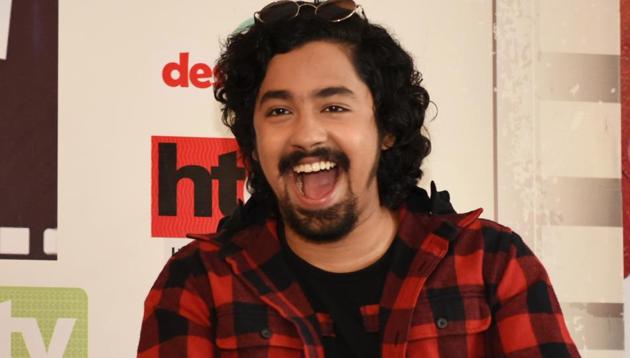 Updated on Oct 09, 2018 02:46 PM IST
Hindustan Times |
, New Delhi
HT Correspondent
A National-Award winner just at the age of 20, Bengali actor Riddhi Sen has quite a huge fan following, already. A charmer that he is, while promoting his upcoming film, Helicopter Eela in Delhi, the actor was at his candid best and left his fans in splits with his prompt answers and sense of humour. The film, where Riddhi plays Kajol's onscreen son is about helicopter parenting and how modern day parents want to be on the top of everything that their children are doing. Riddhi also shared some interesting anecdotes about the film, his parents and working with senior female actors.
Is Helicopter Eela a niche subject or you're hopeful that everyone would find it relatable?
I think everyone related to it. Everyone from both the generations saw the trailer and said that 'ye to meri kahani hai'. This is the best feeling that one is able to identify so much with trailer.
How was it Kajol teasing you with your National Award winner tag?
Ridhi Sen: There is a correction here. (Kajol adds that Riddhi became a national award winner after he became her onscreen son). The news [about me winning the award] broke after half of the film was done.
Was it fun being called that by everyone?
Everyone said it, from dada [director Pradeep Sarkar], the AD on the sets, Kajol ma'am. My second name is national award winner.
+ +
How entertaining Kajol is besides being supremely talented?
I would like to say that it was amazing to work with a human being like her. I have always admired how she is and she is what she is and this is what I looked up tp. In a close proximity, when I got to see that, I was so moved and touched as a human being.
What would happen during intense scenes? Would you guys burst up into laughter?
This has happened so many times but genuinely as an actor, she took so many things out of my character which even I didn't know.
Was Pradeep Sarcar much of a task master?
He is particular you can say. He is not strict but particular. He created an ambience where he made everyone contribute something or the other on the sets. It was a very collaborative atmosphere on the sets.
Your father is such a prolific actor, how much advice do you take before taking on any role?
The best thing both my parents did was to teach me how to be independent. So, whichever project I pick up, I should learn to enjoy it. If I am not enjoying then there is no point in taking up the project. Also, the kind of education they gave me, they taught me how to be very independent and make a choice. Even if I make a choice they have helped me understand why am I am making a wrong choice. They have given me a lot of independence so that I can face life.
+ +
You have worked with Tilotama Shome, Raima Sen, Vidya Balan and now Kajol… all senior than you…
I have been lucky and I have taken my outlook and perspective very seriously. Also, I'd say I have a good taste.
If not acting, what other profession you would have chosen?
I am still figuring out what I can do. May be someday filmmaking.
You have also done theatre. How was your experience and did it help you?
My parents work in theatre simultaneously. My father's association with theatre is 25 years old and I was born in the ambience and I wanted to contribute something to it. It teaches you discipline and which is very important.
Follow @htshowbiz for more
Close Story