Shah Rukh Khan slapping Honey Singh is a rumour, says singer's wife Shalini
Updated on Nov 11, 2014 02:17 PM IST
While Honey Singh is on two-month bed rest, his wife Shalini Singh has taken it upon herself to defend the rapper in the wake of several rumours, including his mysterious illness and one that suggests that actor Shah Rukh Khan slapped him.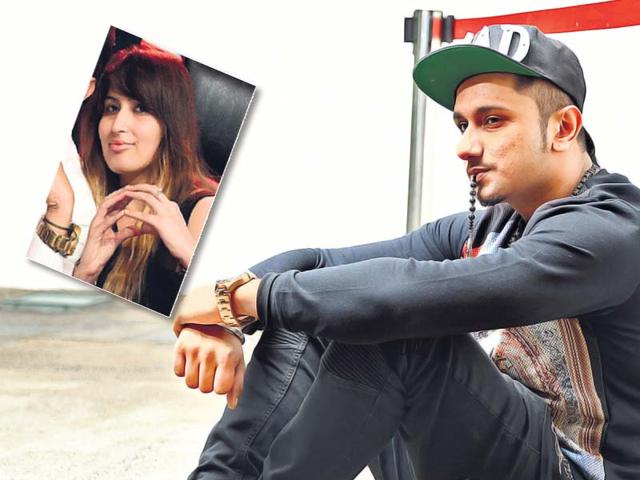 Hindustan Times |
, New Delhi
Debasmita Ghosh
She has never stepped out in the limelight before, but Shalini Singh, wife of rapper Yo Yo Honey Singh, has decided to defend her husband, in the wake of several rumours, including his mysterious illness and one that suggests that actor Shah Rukh Khan slapped the rapper. Incidentally, Honey Singh is on a two-month bed rest due to his illness and has apparently cancelled all his professional commitments.
"It's sad that at a time when he is so unwell, people are spreading all kinds of rumours about him. People call him seeking clarifications but then go ahead and print false stories," says Shalini, a chartered accountant, adding, "Honey is a very positive person, but now that he's physically and emotionally so weak, he often breaks down when he reads all these false reports. He tells me, 'Mujhe theek ho jaane de, phir sab kuch theek ho jayega'."
The two met in a coaching class in Delhi 15 years back, and got hitched in 2011. "I've seen him become Yo Yo," she says, as she begins her chat with us.
What has happened to Honey?


He hasn't been keeping well for a long time because he works 24x7 — recordings, rehearsals, writing, composing, live shows, travelling. He just doesn't rest. The stress was taking a toll on him, and his blood pressure has been fluctuating. Doctors have been warning him for a long time but he ignored those warnings. Then came this reality show on TV and after that the Slam tour (with Shah Rukh Khan). So, finally his body gave up. Now he is on medication and all he needs is some rest. Woh bilkul theek ho jayenge and will be back soon.
Is it true that he had a fight with Shah Rukh on a recent international tour and SRK slapped him
?
Why would he slap him? These are all imaginary stories. Yeh toh sabko pata hai that Honey really respects Shah Rukh bhai, and bhai also treats Honey like a younger brother. In fact Shah Rukh bhai helped and supported us a lot. Doctors had advised Honey not to travel out of the country for the Slam tour but he had given his word to Shah Rukh Khan, so he went with him. However, on seeing his condition, bhai kept telling him to take it easy and not to perform if he wasn't being able to. Bhai asked Honey to take care of his health. He was very understanding. On the tour, Honey was on heavy medication for his BP, and he slipped and fell during the rehearsals and injured his back and head. He was thus forced to come back home. So, Shah Rukh bhai hitting him is just a big rumour, we have no clue why and where it came from. He even got some calls asking him this and he made it clear that nothing like that happened. But even after the clarification those stories appeared, which is strange!
There are also reports that Honey (Singh) left his reality show midway rather unprofessionally and the channel is angry with him.


That's also a rumour. In fact, the channel has been very supportive and the top bosses call us every day to inquire about his health because they have all seen how unwell he was. He didn't leave the show unprofessionally. In fact, the first symptoms of his illness started on the sets of that show and throughout the shoot, he was very, very unwell but still kept stretching himself because it was a commitment ... it was his show after all, and why would anyone want to spoil his own show?
Is it true that he has insomnia and during a press conference in Varanasi (for his reality show), he came very late because he was sleeping in his room after having taken sleeping pills?


It's all false. He doesn't ever take sleeping pills. He doesn't have insomnia. Like any creative person, he loves to work during the night, composing his songs and creating beats. And so, whenever possible, he sleeps during the day, that's it.
Watch: SLAM tour promo

Did he have a nervous breakdown on the sets of the reality TV show in August this year? And, was he waiting for you outside the sets for two-and-a-half hours and nobody could take him inside till you came?


You know, we are tired of such exaggerated versions on simple incidents. Yes, he was very unwell ... in fact, he shot that episode in very bad health. I was in a hotel in the same city. So, when I heard that he was unwell I just rushed to the sets with his medicines. That's all that there is to that incident. He never waited for two-and-a-half hours outside the set for me. These are all false stories.
Personalise your news feed. Follow trending topics