Small-town stories in Bollywood: Passing fad or they are here to stay?
Updated on Sep 28, 2017 06:50 PM IST
The shift in popular culture, from Western outfits such as the "Rangeela frock" to small-town fashion, was palpable. From Bunty Aur Babli (2005) to Anaarkali Of Aarah (2017), the quintessential small-town film has come a full circle.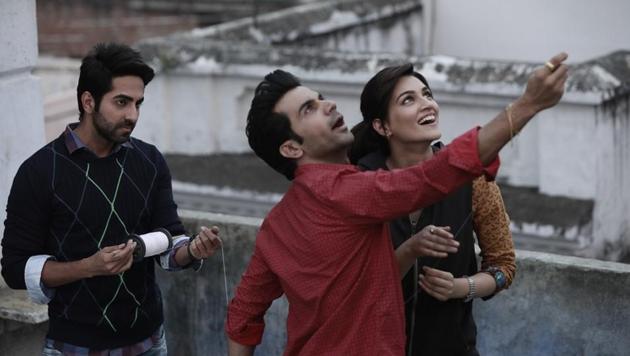 Hindustan Times, New Delhi |
Nirupama Kotru
"Chhote-chhote shehron se,
Khaali-bore dupaharon se,
Hum to jhola utha ke chale"
Gulzar's lyrics for Shaad Ali's Bunty aur Babli (2005) were a metaphor for the rise of the small-town Indian, as well as a clarion call of sorts to filmmakers and writers — to shake off their obsession with the megapolises, Delhi and Bombay, and to explore unfamiliar, uncharted hinterlands.
The film, the story of an ambitious young, small-town duo was a first. Even the costumes by Aki Narula were considered path-breaking, especially the bright, colourful short kurtis and Patiala salwars donned by the heroine, Rani Mukerji. The outfits stood out in sharp contrast to Manish Malhotra's breakthrough designs for Urmila Matondkar in Ram Gopal Verma's Rangeela (1995).
The shift in popular culture, from Western outfits such as the "Rangeela frock" to small-town fashion, was palpable. From Bunty Aur Babli (2005) to Anaarkali Of Aarah (2017), the quintessential small-town film has come a full circle.
How did this happen?
Mumbai, or Bombay as it used to be called till the early 1990s, was a favourite with filmmakers because of several factors, including convenience. Remember the song from the 1956 Raj Khosla-Guru Dutt crime thriller CID, the evergreen anthem for Indians who come to Bombay chasing a dream:
"Ay dil hai mushkil jeena yahaan,
Zara hat ke, zara bach ke,
Yeh hai Bumbai meri jaan"
Guru Dutt and Dev Anand started their partnership with Baazi (1951), from the film-noir genre, which necessarily required the backdrop of a big city where danger lurks at every corner. While Dev Anand went on to play the suave city slicker with shades of grey in many films, his friend Guru Dutt made two more significant and popular films set against the city of Bombay: Aar Paar (1954) and Mr. & Mrs. '55 (1955).Other directors followed. Of course, the bustling cities of Calcutta and Madras (as they were then known then) lent their charms to Hindi films made by directors from those parts.
Cut to the late 1970s and 1980s, when New Age cinema took Bombay filmdom by storm. Govind Nihalani's seminal film Ardha Satya (1983) stood out for its stark portrayal of the police as well as politicians in India's financial capital. Party (1984) was a scathing critique of the urban elite of Bombay. Filmmakers like Rajinder Singh Bedi and Muzaffar Ali captured the angst of urban migration and alienation in Dastak (1970) and Gaman (1978).
The new millennium continues to see Mumbai play a crucial character in some excellent films, Hansal Mehta's Citylights (2014) and Vikramaditya Motwane's Trapped (2017) being recent examples.
In the 1980s, two new directors shifted the cinemagoers' attention to Delhi: Sai Paranjpe with the classic comedy Chashme Baddoor (1981) and Romesh Sharma with his National Award-winning New Delhi Times (1986). Sai Paranjpe's film was a laugh riot starring Farooque Shaikh, Deepti Naval, and the city of Delhi, with Lodi Gardens and Old Fort occupied the pride of place on the silver screen for perhaps the first time.
Since then, Delhi has continued to inspire filmmakers and enamour audiences. This trend continued well into the next three decades. Whether it is blockbusters such as Kunal Kohli's Fanaa (2006) or Farhan Akhtar's Lakshya (2004) or Raj Kumar Hirani's 3 Idiots (2009) or PK (2014), or smaller films like Neeraj Pandey's Special 26 (2013) or Anirudhh Roy Chowdhary's Pink (2016), the monuments of the national capital were portrayed prominently on the big screen.
Raj Kumar Gupta's No One Killed Jessica (2011), which used shots of the then-inaugurated Metro, had a remarkable ode to Delhi:
"Mera kaat kaleja Dilli, mera kaat kaleja Dilli
Lai gayi kaat kaleja Dilli, mui Dilli le gayi…
Susri Dilli Dilli Dilli Dilli
Mui Dilli Dilli Dilli Dilli"
However, with the latest releases of 2017 — Bareilly ki Barfi, Babumoshai Bandookbaaz and Shubh Mangal Saavdhan, all of which are set in small towns of north India — finding favour with both critics and audiences, it suddenly seems like small-town films are the flavour of the season. But it has been a long journey.
Shaad Ali took the story of Bunty aur Babli (2005) to Lucknow, Kanpur and Agra — by no means small towns, but virgin territory in comparison to Delhi and Mumbai in the filmdom. Films like Abhishek Chaubey's Ishqiya (2010), Anand L Rai's Tanu weds Manu (2011) and Anurag Kashyap's Gangs of Wasseypur (2012) followed on this uncharted path.
A lot of supply side factors are responsible for this paradigm shift. Over the last two decades, we have seen a steady influx of talented writers like Varun Grover — who are keen to tell stories from the hinterland — occupy Bollywood. This has ensured that more attention is paid to the nuances of language that makes for a good screenplay and dialogues. Quality art and production designing, superior cinematography, improved lighting and sound are other important factors for the recent successes of these films. The newer lot of filmmakers seldom take their audiences for granted and are conscious of the fact that the devil is in the details, be it the burning ghats of Benaras in Masaan (2015) or the narrow lanes of Haridwar in Dum Laga Ke Haisha (2015) — making the film a visual treat.
A major enabling factor for these filmmakers is access to finance. The average financer of '70s and '80s would not readily buy a star-less film of even stalwarts like Basu Chatterjee and Gulzar. Formulaic films were made according to distribution circles of 'A','B' and 'C' centres. Art-house filmmakers had to depend on a handful of maverick producers, exhibitors and distributors to release their films.
The emergence of multiplexes with 200-300-seater halls as well as the entry of corporate houses has breathed new life into mini-cities and towns. As indie films still struggle to make it to the big screen — ticket prices being a major issue — small-town films with small budgets can obtain corporate financing. And once in a while, a big production house like Aamir Khan Productions may agree to co-produce or distribute a small film like Peepli Live (2010), thereby boosting its chances at the box office.
On the demand side, audiences have now become receptive to stories of ordinary small-towners with seemingly extraordinary lives. Our films seem to mimic the growth of the country. Hitherto small cities and towns are seeing frenetic development with Metros and malls mushrooming all over, forcing Indians to sit up and take notice. Curiosity about life in unknown towns leads to diversification of content. Whether it is the culvert, the peepul ka pedh, the local paan-bidi shop, the mithaiwala with colourful mithais or the kirana store, audiences seem to relish these visuals. Unconventional looks are welcome. Actors like Irrfan Khan, Nawazuddin Siddiqui and Raj Kumar Rao are today darlings of the masses.
The success of recent small-town films like Bareilly Ki Barfi is therefore explained by the fact that it has all the right ingredients necessary for a hit film — a fresh story and script, superb dialogues, solid performances from the cast, excellent production/art design, costumes, cinematography, music and the backing of two corporate houses.
So does that mean that we will soon see a Mathura Ka Peda or Agra Ka Petha hitting the screen next? Unlikely. Copycat films seldom work. What works is content. And if filmmakers think they can mindlessly milk small-town settings, audiences are likely to reward them with empty seats. Whether the film is set in a mega city or a small town, it will work only if the writer and the director stick to the world they know intimately and take care to narrate an honest tale, rooted in the idiom of the region.