Sources close to 2.0 rubbish reports that the film shows mobile phones in bad light
Hindustan Times |
, New Delhi
Rishabh Suri
Nov 27, 2018 09:41 PM IST
Following complaints that the Rajinikanth- Akshay Kumar film shows mobile phones in a bad light, we got in touch with a source close to the production house and an assistant director of 2.0.
2.0, one of the biggest Indian films ever, is facing a trouble just two days before it's release on November 29. Since the trailer shows mobile phones disappearing and Akshay Kumar's (the antagonist) character claiming that every person who possesses a mobile phone is a 'murderer', it's being presumed that this film is against mobiles. Cellular companies, thus have lodged a complaint against the film for showing the use of phones in a bad light.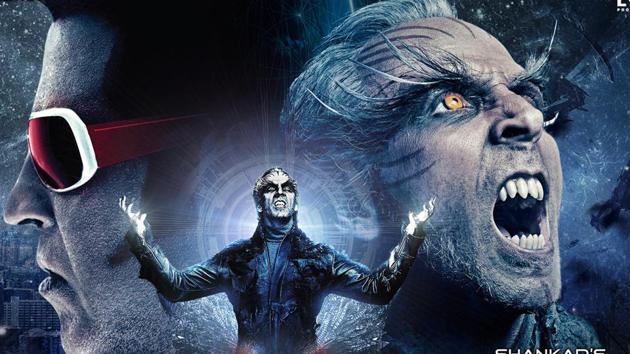 According to a Times of India report, the COAI (Cellular Operators Association of India) has asked for the censor certificate of the film to be re-examined.
A source close to the production house rubbishes the objection being raised. The source tells us, "Firstly, the film is not against cellular companies or towers, per se. It just shows that these companies cannot be indiscriminately flouting the limits set for radiation.The legal guidelines have set a limit on how much radiationcan cellular/ mobile phone towers emit, and companies are indiscriminately flouting that. Once it is flouted, birds and life get affected. This is the basic theme of the film. You cannot be going against it. It is not saying 'don't have cellphones' but rather that certain guidelines are also kept internationally, so they also need to be respected in India."
The second clarification from the source makes it even more clear. "The film is made by Lyca, who are the producers. It's one of the largest mobile companies in United Kingdom, so why will a cellular company make a film which is inherently against mobile phones?"
We got in touch with an assistant director on 2.0 to get a reaction and gauge the mood of the team. He said, "There's freedom of speech. The filmmaker (Shankar) and the people who are involved in filmmaking are very responsible people. We are not here to address or change the mood of the people. Shankar has always given messages through his films. He knows what he is doing, and whatever is being said, like we are 'terrorising' people, is this the way to talk about a movie? It's a commercial movie for all people.".
"If the telephone people are so clear on the message, they should watch the movie first. Also, how are they asking to remove the censor (certificate)? (It's been given by) a governing body… they are saying this movie is against technology! It's unbelievably ridiculous. On our side, we don't know what it is, and we don't care. It's upto them and Censor Board. Everybody should watch the movie first. Also, it's a trend for anybody to seek attention through a very big movie. As a filmmaker, it's tough and heartbreaking to see this kind of stuff," adds the assistant director. He also told us that Shankar doesn't want to comment on this.
"He's very tired after three and a half years of working… he wants to rest for a day or two before the big day," we are told.
Interact with the author on Twitter/ @RishabhSuri02