On my first visit to India, I found Delhi more conservative than Kabul: Hamid Karzai
Updated on Jan 26, 2018 07:44 PM IST
Former Afghanistan president Hamid Karzai reminisced about being a student in India, his years as president, and charmed the audience by singing snatches of a Hindi film song during a session at the Jaipur Literature Festival on Friday.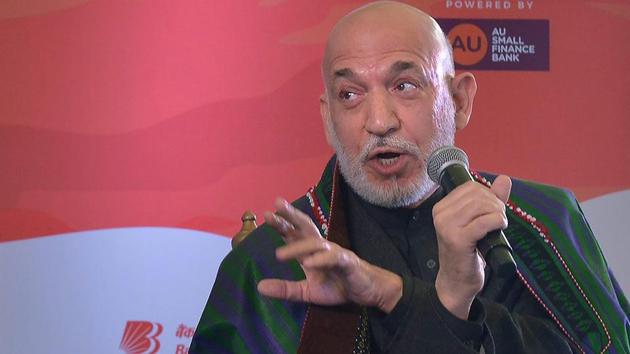 "You want the sad ones (stories)? You want the happy ones?" asked former Afghan President Hamid Karzai of the enthusiastic crowd at the Jaipur Literature Festivalk at one point. Having gauged the mood of the audience, he continued, "Ok, you want them all".
And all it was. From his student days in Shimla, to resistance against the Soviet occupation of Afghanistan, the resistance to Taliban rule in his country and the more than 10 years spent as President, Karzai, blended personal anecdotes with his candid take on international politics in an-hour-long conversation that proved that politicians can be charming even when they are not asking for a vote. It helped, that the conversation was being steered by William Dalrymple, who has known the Karzai long enough, and had heard these stories before.
For Jaipur Literature Festival full coverage, click here
"When I first came to India in 1976, I found Delhi to be a lot more conservative than Kabul was at the time," Karzai said surprising many who only know Afghanistan as it has become under the Taliban. Of how he ended up studying in Shimla, he said, "I was staying with my cousin who was studying at AIIMS. One day in July, he took me to Connaught Place. You can understand how hot it was. And Kabul is not like that, it's cold. So I asked him, 'Is there any place in India where I can study which is cooler?'And he said, 'Yes, Shimla.' So we went to Shimla… that's how I stayed in Shimla for six years," Karzai said.
If there was one aspect of India that he was familiar with even before coming to the country, it was its cinema. "Dev Anand, Raj Kapoor, Hema Malini… Songs of Lata Mangeshkar, Kishore Kumar, Rafi…" He rattled off these and many more names and added, "Indian cinema was very popular in Afghanistan and in fact, people from Pakistan would come to Afghanistan to watch Indian films… In Shimla, I watched many more Western films, in a theatre called Rivoli," he said. When someone from the audience asked if he had picked up Hindi during his years in India, he promptly replied with: "Kuch kuch bol leta hoon. Main aapke liye gana bhi ga sakta hoon (I can speak a little. I can also sing for you)." And then, on the insistence of the audience, Karzai laughed and proceeded to recite the opening lines of an old Hindi film song, "Yeh mulakat toh ek bahana hai, pyar ka silsila purana hai."
Watch: HamidKarzai in conversation with William Darlymple at JLF 2018
It wasn't all laughter and fun though. It was while he was studying in Shimla that Karzai learnt of the Soviet invasion. "I was walking to my college from my hostel in YMCA. Two girls were coming from the opposite direction and I heard one of them tell the other that the night before, the Soviet forces had invaded Afghanistan," Karzai recalls. He returned to his country, joined the mujahideen fighting to defeat the Soviet troops, "mainly in a political role, not a military role", and after the Soviet forces were defeated, became a deputy minister in the government. Then came the in-fighting between the mujahideen. When the Taliban started rising in the country "the people initially saw it as a salvation," he said. "I too supported the Taliban initially. Later, we realized they were abusing our culture," he recalls. It was another battle then to resist the Taliban. His father was assassinated and Karzai spoke of secret trips to Afghanistan to reunite the country." From Taliban attempts to track him, to being helped and fed by a poor farmer, to escaping US bombing and becoming President, it was a roller-coaster ride. Karzai spoke of his years as President, the bond with India and how the country has helped in rebuilding Afghanistan. He also spoke of his problems with US policy and the Pakistan militarization. "My opposition to the US was they were hurting Afghanistan by bombing our country and by ignoring the sanctuaries outside our country, that were hurting us," he said.
"So what you are saying is the Talibans were being nurtured and supported by Pakistan?" asked Dalrymple. "My complaint is not against the Pakistani people. The complaint is against the military intelligence system there," Karzai clarified, adding that the problem couldn't have happened without CIA support. He also answered questions on allegations of corruption and poppy cultivation and trade during his years in the government and accused the US presence and its way of working in the country for much of it.
In parting, the leader, who was recently spotted buying Ghalib's work from a bookstore in Khan Market and claims to have copies of Tagore and Kalidas too, had a word of advice for the Indian youth. "You are inherently a peace and freedom loving and tolerant country… a melting pot of culture and civilization. Ustad Bismillah Khan and Bade Ghulam Ali Khan were originally from Afghanistan. But India gave one the shehnai and the other the voice. Cherish that and keep sharing it with the rest of the world," he said.
Follow @htlifeandstyle for more
Personalise your news feed. Follow trending topics