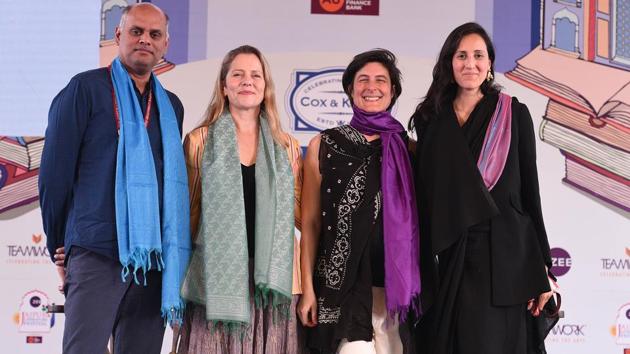 Sari is sexy and sensual. Still why aren't more women wearing it today?
Three fashion experts - Paola Antonelli, of the Museum of Modern Art, fashion historian Malika Verma Kashyap, and writer-editor Anja Aronowsky -- discussed saris, bikinis, burqas and the evolution of fashion during a session titled Fashion and Modernity at the Jaipur Literature Festival.
UPDATED ON JAN 29, 2018 06:38 PM IST
A recent exhibition curated by Paola Antonelli of the Museum of Modern Art (MoMa) featured Raw Mango designer Sanjay Garg's sari. Paola said she visited many other designers but loved Sanjay's sari the most. "His khadi sari was perfect, and so was the Varanasi brocade. So I picked him over many other designs and collections," she said.
A panel of fashion experts including fashion historian Malika Verma Kashyap, writer and editor Anja Aronowsky Cronberg and Paola came together to talk about modern fashion and gave examples from their own journey about it.
For Jaipur Literature Festival full coverage, click here
Paola's exhibition at MoMa involved 111 pieces of clothing and accessories that have influenced the fashion world in the 20th and 21st centuries, and that continue to be important in 'material culture'. The list includes the little black dress, a black leather jacket, and the sari, among others.
"We've tried to look at fashion as material culture. We've tried interpretations of traditional items, like harem pants that were first designed in France were later interpreted in Colombia. There were also new kinds of material, like a zoa -- a brand new material that is pure leather but is made in vitro and is animal free, which is interesting for a country like India where there is a culture that has always considered the cow sacred," she said.
Malika, who is the founder of Border&Fall, has started a sari project, which addresses the question of what the sari looks like on contemporary urban Indian women. "A question that has prompted the sari project is that why are more women not wearing the sari today? The sari has a cultural, emotional, and economical value. Many people think the sari is sexy and sensual, but people are still not wearing it. We've tried to show different drapes to be able to look at the sari differently," she said.
Anja spoke about the practical look of fashion going beyond just how it looks and the critical thinking involved. "There is this idea about fashion where you associate it with vanity and superficiality, unlike other forms of culture, which affects people interested in fashion and those who work in the industry. Clothing influences everything we do," she said.
When the bikini was first worn in the 1940s and 1950s on beaches in south France, the police reprimanded women for wearing so little. Ironically, when burkinis were worn in south France a few years ago, burkini bans were announced. Pramod Kumar KG, the first director of Jaipur Literature Festival, asked Paola about the juxtaposition of the bikini and the burkini in the exhibition display, and if fashion is coming full circle. "The idea of placing the bikini and burkini next to each other was done to talk about the fact that the idea of modesty and appropriate dressing are unisex, but wars are fought on women's bodies and what's appropriate for them. It was important to show that," she said.
The discussion on modesty turned into a discussion about restrictions that Malika has addressed with different drapes in saris. "There's so much of restriction about how a sari has to look a certain way, has to have a blouse, pallu has to be perfect must have a petticoat…Many saris in the series don't have a petticoat. People have been vocal about how they appreciate this promotion of the sari," she said.
Follow @htlifeandstyle for more
Close