Cover story: Life of Irrfan
Hindustan Times |
Tavishi Paitandy Rastogi, Photographs by Natasha Hemrajani
Apr 01, 2013 05:37 PM IST
He is Hindi cinema's best known name in Hollywood. And with the National Award for Paan Singh Tomar under his belt, Irrfan is pushing new boundaries
There was something about kite flying that always fascinated actor Irrfan. He was struck by the dizzy heights a free-flowing kite would reach in the vast open sky. The way a mere piece of paper could trace its way in uncharted territory would keep him spellbound. "I loved the sense of freedom that the kite experienced. Inherently, I was dying to experience the same, in every sense of the word," says Irrfan, as he sits down on the comfortable lounger at his Mediterranean-style Madh Island home. The white walls, big open balconies and glass doors reflect his mindset. Nooks and corners are bathed in bright blues. Fuchsia is set against black and white photos of his childhood, parents, wife and two sons.

"My mother was always very scared. But I was very sure that I wanted to fly… Just like the kite," says Irrfan as he rolls up a cigarette, takes a deep puff and continues looking across at the distant sea. "I wasn't one to be tied down by lines, boundaries and discipline. It was very important for me to be free. In character and in action..."...Your attitude seems to translate into your actions, because the kind of work you do definitely does not conform to any given rules.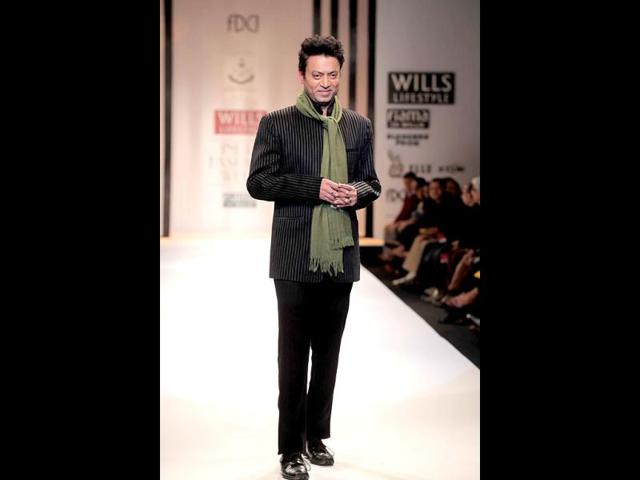 How can it?
That is not my mindset. In fact, I hate routine and discipline. I think it ties a person down completely. I also hated school. Just hated it. I wanted to get out of it the minute I walked in. So much so that today I don't even like going to a gym or running on a treadmill. The repetitive action of running bores me. I liked playing. Any sport or game interested me. And I was good at most of them.
But given your profession, is there any escaping the gym routine?
True, there isn't. But I don't do it regularly. I get into gym mode only if I am playing a character that requires a body type like that. Like when I did The Warrior [a film by British-Indian filmmaker Asif Kapadia, in which Irrfan played the central character of a warrior in Rajasthan] in 2001 or recently Paan Singh Tomar. But not on a regular basis.
Paan Singh Tomar. Your award winning performance with all that running you did... did it need extensive training?
I trained of course. You just can't run a hurdle race. There are some technicalities that you must understand. You have to reduce the distance between your feet and the hurdle and you can't adjust your steps only when you're close to the hurdle, so you have to maintain a rhythm.
I started my training three months before we started shooting. The coach came, taught me the basics, then went off. I practised on my own for some time, then he came back again. And so on. We had also planned the shoot in such a way that we would shoot the running scenes at intervals. But it so happened that all of them got shot together. So, for nearly a month, I was just running day and night.
And running barefoot on camera...
Yeah, but actually that isn't a problem. In fact, all you have to do is find even ground. Then you are sorted.
When did you realise you wanted to act?
Oh! When I was very young. I think I was in Class 10 when I first saw a film. And I was so struck by it. I knew then that I wanted to act. But I couldn't share this with anyone. No one would take me seriously. I was thin, extremely shy and had a voice like a woman. It took me nearly a year and a half to even tell my best friend about my deep desires. Poor him! On the face of it, he encouraged me but knowing my family, he knew I was in deep s***. (Laughs)
Your family wouldn't have approved?
Absolutely not. Cinema was and to a very large extent even today is looked down upon back at my home. Though of course it's much better today. In fact, we weren't allowed to watch films for the longest time. It was considered a frivolous, naachne-gaane-walon ka profession. No one really took it seriously. I had to lie to go and watch a film. In fact, it took a great deal of story-telling. I had to go to great lengths to explain my absence from the house for three hours. I remember once I even cut myself on my hands and feet just to distract my parents' attention after I had gone to watch a film.

Even today, after the National Award, my mother's first reaction was: "Okay, so you seem sorted for now, what of the future?" All I could say was: "Ji, uska bhi jugad kar raha hun." [I am working towards it].
Judging by your independent mindset, it seems like you had an interesting family...
My family was a strange mix. We lived in Jaipur. The value system and culture is traditional and conventional but my family isn't fanatically conservative. My mother never did purdah. My father and her – in a small place like Tonk in Rajasthan – would roam about in an open jeep. Ma came from a high profile family of hakims and my father was a nawab. They had seen some glorious times but then fell on hard days. Neither of them took anything from their families. They were completely self made. My father never really believed in bookish knowledge. He didn't insist on academics, my mother did. It was very important for her. For dad, learning a craft and perfecting it was far more important. He respected that. So it was a strange mix. Films were taboo. But they didn't raise an eyebrow when I decided to marry a Hindu, Bengali girl.
Really, you mean there was no drama?
It wasn't filmi at all. In fact Sutapa [his wife] and I often joke that the response from both families was too thanda! I knew her parents well and would often go to their house in Chittaranjan Park in Delhi. Both her parents and brother loved me unconditionally. There was a lot of affection and high regard. So they were rather happy when we decided to marry. My mother, on the other hand, was a bit apprehensive but once she met Sutapa, she was fine. Her concern was the other way round. She believed I was too much of a vagabond and kept worrying that I would dump Sutapa. She would keep telling me, "Usko dhokha mat de diyo!"
You met Sutapa at the National School Of Drama (NSD), right?
Yes, we were classmates. She was this studious, smart, English-speaking, skirt-and jeans-clad, hep Dilliwali and I was the backbencher vagabond from the cow belt. We hero-worshipped Mithun Chakraborty and she talked Robert De Niro. But we were friends. We talked, argued, hated each other, but we also missed each other and watched each other's back. She was poor in drawing, so I'd often do her art work and take money for my bidis and chai from her. We couldn't afford cigarettes. I would save only 25 paise from my scholarship money and couldn't waste it on bidis. In fact, Sutapa liked playing the caretaker.
Your time at the NSD was a turning point in your life, wasn't it?
Completely. It was the game-changer for me. My father had passed away around the same time and being the eldest of four children, it was obviously supposed to be my responsibility to get the family in order. But I knew that my life in Jaipur was over and done with. I was desperate to get out at any cost. I couldn't do any more of the useless evenings with friends, the idle gossip, the looking at girls and general waste of time. It was over. My admission to NSD was like my ticket to freedom. I had to pay R300 as my fees. I didn't have the money. Friends didn't really help, so I finally borrowed it from my sister. Ma wasn't too happy. It was only after I convinced her that it was a proper course with classes and a curriculum that she let me go. The only lie that I told her was that once done, I would come back to Jaipur and become a theatre professor or some such. That was a possibility for sure, but it wasn't ever in my mind. My goal was very clear. It was films and only films.
But truly, NSD was my first flight! I was free for the first time. I was learning what I wanted to. There were no questions, no answers, no restrictions, no timings, no lies, no excuses. We learned a great deal – history, literature, etc – but the whole feeling was one of complete freedom. I loved it. The only thing that I didn't ever understand was how anyone could put a method to feeling. For me, good or realistic acting was only possible if there was an emotional connect with the character. And no school can teach you to feel emotion. Either you have it or you don't.
You were sure you wanted to do films. But was it difficult to get that first break?
Actually no. My first film Salaam Bombay [1988] just happened. I was still in my final year of NSD when Mira [Nair] came and cast me in the film. And then it just started. In fact, I came to Mumbai only when filmmaker Govind Nihalani called me and wanted me to do some plays.
Why did you move to TV then?
Do you remember the kind of films that were made in the '90s? It was the worst period for Hindi cinema. VCRs had come in and the middle class had stopped going to the theatres. Movies were being made only for the front-stall audiences. And as we were entering films, parallel cinema was breathing its last. So what was the option? It may not have been my first choice but I can't deny that TV gave me a great high. People still talk about Banegi Apni Baat and Chandrakanta. I experienced stardom for the first time with these two serials.
Till Haasil and The Warrior happened...
Those two films were again turning points. Asif [Kapadia, film director] had seen some of my work and gave me The Warrior. Till the film was complete, I had no idea how it had shaped up. It was only after the film premiered in New York that I realised the magnitude of the whole thing and the overwhelming response. It had a strange effect on people. In London, people came out of the theatres and said they felt cleansed. The media went crazy. All they talked about was my presence. For the first time I became aware of a thing called screen presence and the fact that I had it.
The India appeal though still eluded me till Haasil in 2003. Tigmanshu [Dhulia, film director] and I were in NSD together. We are friends first. It was his first film and a life changer for me. Haasil got me my first brush with stardom in films. I wasn't the hero. I was the villain in the film but I won awards and was recognised as an actor in Hindi films.
But life didn't change much, did it?
No. In fact, my wait for a good role, a big film and a call from a big director kept increasing. I would wait endlessly for that one phone call. People would see me on TV or in some films, appreciate me, but it never translated into big films. I was desperate. I was even ready to play a side villain's sidekick. But that too didn't happen. And I could never go and ask for work. I was too shy and found it very humiliating to go and tell people to see my pictures or give me a job.
Do you feel you were underrated?
Initially maybe. But I realised I was a certain type. I wasn't your quintessential hero. I was more an actor and Hindi cinema didn't really have scripts, roles or films to cast me adequately. We didn't make such films then. Now it's changing. This is not the peak, we'll come to that in a few years. I have done some great films, Maqbool, Saat Khoon Maaf, Billu Barber, Mumbai Meri Jaan, Rog... And of course Paan Singh Tomar... But they came at intervals. Now there are some great directors who have different sensibilities. People like Anurag Basu, Anurag Kashyap, Dibakar Banerjee, Milan Luthria, Vishal Bhardwaj, they are ready to push the envelope, and that is what we need.
You have done select work in Hindi cinema but you are India's best known name in Hollywood...
Thank God and yes, touch wood, I am in an enviable position there. But that is again perhaps because directors in Hollywood are ready to take the risk. Be it Asif Kapadia, [The Warrior], Michael Winterbottom [A Mighty Heart], Danny Boyle [Slumdog Millionaire] or even Ang Lee [Life of Pi], each one of them was ready to play with the character and let your performance flow. There are no set rules. They don't cast you in the same mould. The Warrior gave me screen presence and in The Namesake [2006] my character was supposed to be almost invisible. The only reason I keep doing Hollywood is because they awaken the actor in you. The experience of your performance is brilliant. As an actor you feel enriched. There is no money there. It's only the feel.
No money?
No. One, they don't pay very well. Two, whatever they pay, they take more than half of it in taxes. And the amount of time that they demand, you can do 10 films in India in that time. But the experience as an actor is unparalleled.
Did you think Paan Singh Tomar would do so well?
Of course not. We believed in the film. Tigmanshu, me and the rest of the crew. But no one else did. Why do you think it was in the cans for four years? But every film has a vibe, an energy. It comes with its own destiny. This film too had it. All through when we were making the film, it kept encountering hurdles but every time, it worked its way out. The vibe was very positive.

Slumdog Millionaire had the same thing. The original studio refused to sell it. They decided to take it out in DVDs. Danny Boyle panicked, took the film to Toronto, 200 people from Fox Searchlight saw the film and wanted it immediately. It was released only in one theatre in New York but then it started rolling and crossed $300 million.
Even in The Namesake, it was supposed to be Gogol's film [the lead protagonist]. My character of Ashok Ganguly was a side track. But the film ended up being Ganguly's film. Could we have predicted it or planned it? No. It's destiny.
You believe in destiny?
Yes, I feel life has a design for you. You can't change it. So there are two ways: either try and figure out what, how, when, why, life, death; or just believe that you are living a free life. You have to be patient and let life take its course. You can romance life
better this way.
Are you a romantic?
Hard core. I am a very passionate, romantic man. I love being in love. It makes you sensitive. I look for romance, humour and wit even in the most serious roles. In fact I hate being serious. I keep trying to put in witty one-liners in my dialogues. Unfortunately, no one has really given me a role like that. Life In A... Metro was the only film where I experimented with humour. I also did Dil Kabaddi but it didn't work that well.
So is that your next avatar?
Well, I am waiting. I know I want to do an action-romantic film. But I have to wait for a good script and a good director who will cast me. Life is transient... I am living every moment.
From HT Brunch, March 31

Follow us on twitter.com/HTBrunch
Connect with us on facebook.com/hindustantimesbrunch