Changing incentives, falling income make lives difficult for Uber, Ola drivers
Feb 11, 2017 03:04 PM IST
Within three years, after adding a few lakh drivers and cars to their platforms, Ola and Uber are now tweaking their driver incentives, which has brought down driver income.
Tough times for drivers on cab-hailing apps Ola and its American rival Uber started somewhere in August last year.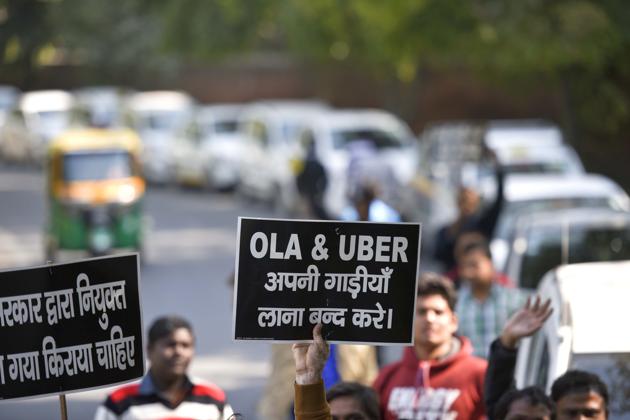 It had just been months that the companies, which had attracted a large number of drivers through high incentives, had changed the schemes. Several of these drivers had quit their jobs as a personal driver.
Over the past few months, the gradually declining wages and inhuman working hours has finally resulted in multi-city strike for Uber and Ola drivers. In cities such as Bangalore, Hyderabad, Gurgaon, Noida, and Delhi, where strikes were called, they wanted better perks, relaxed working hours, and accidental insurance.
Cut to early 2016. From a blanket incentive plan of Rs 250 for every booked ride, irrespective of the distance, Ola and Uber started clubbing rides for a fixed incentive. Ola gives Rs 3,000 if a driver clocks six rides back-to-back, Rs 5,500 for 12, Rs 8,000 for 16, and Rs 11,500 for 19. Uber too offers similar incentive plans. This is over and above the fare. Of the fare, Uber or Ola take 20% as commission.
The incentives result in heavy losses. "Each of the companies burn $50 million on incentives every month," said Siddhartha Pahwa, CEO of Meru Cabs.
With change in incentives, overnight working hours — Uber and Ola claim flexible working hours — changed. HT had reported earlier that drivers ended up spending 16-17 hours on the roads every day to complete a set number of rides to get higher incentives, leaving the drivers sleep-deprived.
The incentives too had attracted many drivers. The supply of cabs was more than the demand in most cities. Both the companies have close to 4,00,000 drivers each on their platform.
Throw in the fact that not every day is a good day. Driver's income fell by two-third in most cases. "I used to earn anything between Rs 90,000 to 1,00,000 every month... That is down to Rs 35,000 now," said Pramod Narayan, an Ola driver in Delhi.
Uber also gives incentives for peak hour rides — Rs 2,400 for four rides, Rs 3,000 for six, Rs 3,500 for eight, and Rs 4,500 for 10 rides. "But, there is so much traffic that we hardly do two to three trips. That doesn't earn us any money," said Raj, an Uber driver in Delhi.
India is not the first country where Uber is facing drivers' agitation. Similar tiffs are quite common in London, other parts of Europe, and in America. "The business (of Ola and Uber) has to come of age. The kind of incentives they are providing is not sustainable," said a consultant with one of the top four global consultancy firms.
With the falling incentives, Uber and Ola drivers are demanding higher fares. "We don't want to work for Rs 6 per km," said a senior executive of a Sarvodaya Driver Association of Delhi, which claims to have over 2,000 drivers in its association.