Demand back in economy as corporate earnings set to rise in double-digit for third straight quarter
Jul 13, 2018 11:44 PM IST
From automobiles to packaged consumer goods makers, companies are poised to report strong, double-digit growth in sales for the third straight quarters in the three months ended June, the first quarter of the current financial year.
The consumer economy seems to be firing on all cylinders once again. From automobiles to packaged consumer goods makers, companies are poised to report strong, double-digit growth in sales for the third straight quarters in the three months ended June, the first quarter of the current financial year.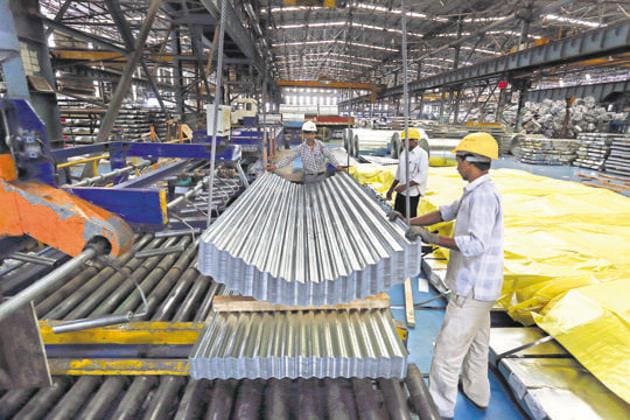 That's a sure sign that the manufacturing economy has overcome the lingering aftershocks of the November 2016 invalidation of high-value bank notes and the July 2017 implementation of the Goods and Services Tax (GST), according to economists.
"The first quarter figures will reaffirm a sustained pickup in demand in most consumption-linked sectors," said Prasad Koparkar, senior director, Crisil Research, an arm of the credit rating company Crisil.
The uptick is likely to be a leg-up for the Bharatiya Janata Party-led National Democratic Alliance government in the run-up to general elections that are less than a year away. Robust sales of mass-consumed items mean higher demand for manufactured goods. Such growth also potentially staves off job losses and creates employment.
Another reason for optimism is an expected rebound in rural demand in 2018-19, signs of which are most visible in the rural vehicle market, in which sales have hit a seven-year high.
No wonder the Bombay Stock Exchange's Sensex, India's most closely watched gauge of share prices, on Thursday hit a lifetime high of 36,548.41 points before easing a tad on Friday, buoyed partly by hopes of stronger corporate earnings growth.
To be sure, the Index of Industrial Production (IIP), a gauge of factory output, slowed to 3,2% in May from a revised 4.8% in April, but that was paced mainly by "intermediate goods" such as minerals. "The IIP growth has slowed but if one looks at the purchasing managers' index, manufacturing growth looks robust in the quarter ended June," Dharmakirti Joshi, a Crisil economist, said.
The Nikkei India Purchasing managers' index for manufacturing — an indicator of industrial activity — rose sharply to 53.1 in June from 51.2 in May on the back of robust new orders. Domestic orders rose to 54.9 from 51.6, while export orders jumped to 53.1 from 52.6. A reading above 50 indicates expansion.
Company earnings in the previous two quarters (January-March and October-December) across six consumption-led sectors grew on average by 11.9% and 10.9%, respectively, Crisil Research said. These sectors were automobiles, packaged consumer goods, information technology services, pharmaceuticals, power and steel-based items.
Yet, economists downplayed those two quarters' results, arguing that sales received a boost from the so-called base effect, which refers to a statistical distortion caused when a current period is compared to any previous period of abnormally high or low values. For instance, growth in revenue or inflation may appear very high if the base to which it is compared was low.
The good news is that company earnings are set to rise even higher in the three months to June, according to sectoral data tracked by rating company Crisil and securities house Nomura, reinforcing evidence that the consumer economy has indeed recovered .
Automobile sales rose an estimated 34.3% in the three months to June and sales of packaged consumer goods, which include everything from soaps, shampoos and toothpastes to biscuits and chocolates, grew 10.8%.
Crisil Research, for instance, expects sales growth to be at least 12.8%, a 12-quarter high, based on its analysis of 350 companies that account for 50% of the market they represent.
A financial year comprises four three-monthly quarters, for each of which companies report their earnings and pay dividends.
Of the three quarters of double-digit growth, it's the latest one – or the first three months of this fiscal year -- that holds the key because it is free from any "base effect". That's because earnings were already high in the immediately preceding quarters.
According to Aashna Dodhia, economist at IHS Markit, a global financial information provider, India's manufacturing is on a "solid footing" on the back of "robust demand conditions".
Auto sales have hit a particularly sweet spot. "In 2018-19, the India auto industry is likely to have its best year since 2010-11, with strong growth across segments," said Kapil Singh, an analyst with Nomura. He cited "healthy rural demand" as a reason for this.
Pockets of the agricultural economy, meanwhile, are still struggling. For instance, a fall of about 28% in sugar prices due to a bumper 2017-18 crop has shaved a fifth off millers' revenue. This has a direct impact on sugarcane farmers in the form of delayed payments by millers for their produce.
Yet, according to Singh of Nomura, rural demand will likely pick up further, driven by the increase in minimum support prices for kharif (summer) crop and presumptive higher government spending in a pre-election year.
According to calculations by Nomura, 11 top states, spurred by farmers' protests, have increased budgeted expenditure on agriculture by 44% year-on-year.
A 4% depreciation of the rupee against the US dollar has made imports, such as oil, costlier — that's a huge concern — but export-linked sectors such as IT and pharmaceuticals are expected benefit and "show an uptick in revenue growth," Crisil's Koparkar said.