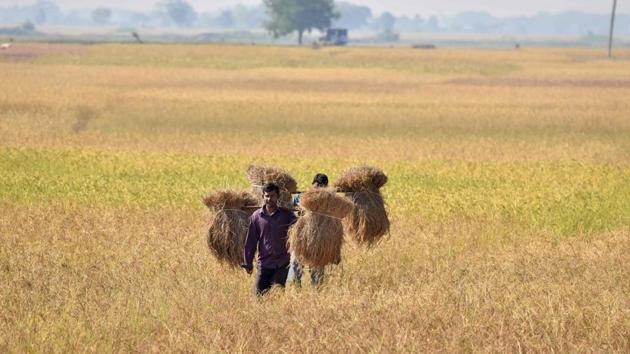 Farm loan waiver: Why it's just a poll sop
In the wake of the demonetisation impact on the economy, especially the farmers, a Congress delegation recently met Prime Minister Narendra Modi, demanding a farm loan waiver. Congress vice-president Rahul Gandhi said since the government waived loans worth
₹
1.4 lakh crore to corporates, it should do the same for farmers. However, most banks are against the loan waiver, claiming that it will encourage farmers not to repay their loans.
UPDATED ON DEC 27, 2016 08:38 PM IST
In the wake of the demonetisation impact on the economy, especially the farmers, a Congress delegation recently met Prime Minister Narendra Modi, demanding a farm loan waiver.
Congress vice-president Rahul Gandhi said since the government waived loans worth Rs 1.4 lakh crore to corporates, it should do the same for farmers.
However, most banks are against the loan waiver, claiming that it will encourage farmers not to repay their loans.
So far, the Centre has waived farm loans twice: in 1990 and 2008. Under the Agricultural Debt Waiver and Debt Relief Scheme of 2008, the government waived entire loans to marginal and small farmers (those with landholding of up to 2 hectares) and offered one-time relief of 25% to other farmers.
The government disbursed Rs 52,516.86 crore up to 2011-12 under the scheme, according to International Council for Research on International Economic Relations (ICRIER).
Farmers' plight
But farmers are struggling. They are facing decreasing landholdings, high input costs, falling water table, and deteriorating soil quality. As agriculture growth has slowed, farmers' income has also fallen, making it difficult for them to pay for the increasingly costly inputs. This then forces them to take loans.
With many small farmers still not eligible for bank credit, they borrow money from non-institutional sources, which charge exorbitant interest rates. And it only takes one or two failed crops for them to fall into a debt trap.
Prof. Swaminathan highlighted the farmers' plight this year, saying, "Punjab farmers, at the heartland of the Green Revolution, with an average farm size of 3.79 hectares, growing wheat and rice get an income which is less than the starting salary of a Class Four employee. … That is the crisis in Indian agriculture."
Farmers in arid lands face an even more bleak situation as they depend entirely on rains and are not insured against the vagaries of the weather.
Considering the many risks involved in farming and little government support, many debt-ridden farmers are driven to suicide. A UN report said one farmer committed suicide every 32 minutes between 1997 and 2005.
2008 loan waiver impact
One would expect that two loan waivers would have relieved the plight of the farmers. But they didn't. According to a paper published by the Indian Statistical Institute in 2013, there was deterioration in the repayment of loans after the loan waiver of 2008.
It said all three groups ‑ small and marginal farmers, bigger farmers, and farmers who had not defaulted on their loans– took longer to repay their loans after the loan waiver.
Moreover, the paper says the loan officers will reduce lending after the waiver as compared to before as the punishment for making a bad loan is more than the reward for lending wisely. Since the probability of default is higher for farmers who had done so earlier, loan officers reject their applications. These are mostly small and marginal farmers. In the end, the debt relief results in fewer farmers getting access to credit, which is the exact opposite of what the government had intended to achieve.
Other criticisms
A 2015 ICRIER paper says the massive write-off of loans in 2008 took its toll on the banks, increasing the non-performing assets of commercial banks threefold between 2009-10 and 2012-13. Moreover, the scheme was criticised for excluding farmers – mostly in arid lands – who owned more than 2 hectares. Those who borrowed from money lenders also didn't benefit from the scheme.
Way forward
The ICRIER paper says generalised loan waivers should be avoided as these impair the agricultural credit channels. It says targeted loan waivers with case-by-case examination may just do the trick. It said the results would be better if waivers were a part of a comprehensive package, including public investment and other incentives.
Close