Firms line up measures to ease payday woes for staff
Hindustan Times |
, New Delhi
Himani Chandna and Vandana Ramnani
Dec 01, 2016 11:07 AM IST
Indians need cash, especially to pay domestic helpers, newspaper vendors and milk-sellers, among others.
'Your bank account has been credited with the salary...' is one of the text messages that always bring a smile on the salaried class.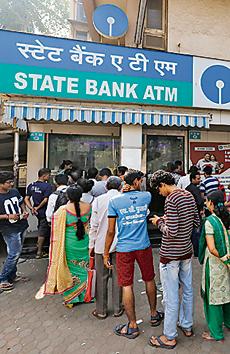 But this month is unlikely to be similar. Demonetisation is making its effects felt across the board.
The number of the customers turning up at bank branches to withdraw salaries are likely to rise four-fold compared to the normal times, bankers said.
Indians need cash, especially to pay domestic helpers, newspaper vendors and milk-sellers, among others.
Companies, anticipating the hassles of withdrawing money, are offering a day off or deploying mini ATMs within office premises. The move has displaced the corporate monthly payroll cycle, forcing companies to disburse salaries in advance.
"We have paid salaries in advance this month, considering the queues outside ATMs and banks are getting longer. Hopefully, our employees have already made the withdrawals," said Hitesh Oberoi, CEO of Info Edge, the company which owns businesses, such as Naukri.com, 99acres and Jeevansathi.com. Beauty and wellness firm, VLCC, also paid half of the salary in cash and in advance, this month.
IT giant Infosys, automobile maker Mahindra and Mahindra and operator of Dominos and Dunkin' Donuts chain Jubilant FoodWorks have deployed micro ATMs within office premises. "We are also talking to banks and trying to figure out a solution for our employees if we can get a portion of salary in cash, in metro cities. In smaller towns, we have managed the situation," said Biplob Banerjee, executive vice-president, human resources, Jubilant FoodWorks Ltd.
Startups, including Knowlarity and STC Skills, are offering half day and full-day leaves to sort out the cash crunch. Mobile wallet firm, Paytm, is providing food allowance to not just its own employees, but those of other companies as well. The money in the food wallet will not expire, unlike vouchers.
Realising the cash crunch, infrastructure companies have started opening bank accounts for workers. "We spoke to our banking partners to hold a drive to open accounts for the labourers working on our construction site. We do not want to hold on to people's salaries and we wish to disburse the payments as soon as people get their accounts," said Amit Modi, director at real estate developer, ABA Corp.
Banks, especially those in the public sector, have asked employees to set up separate queues for senior citizens, especially those looking to withdraw their pensions. Banks have also re-deployed their staff to increase strength at the front desks to deal with the added pressure.
"We have already instructed our bank branches and staff to ensure that the process is seamless... Different queues will be made for people with different needs, we are prepared for it," Animesh Chauhan, managing director and CEO, Oriental Bank of Commerce, told HT.