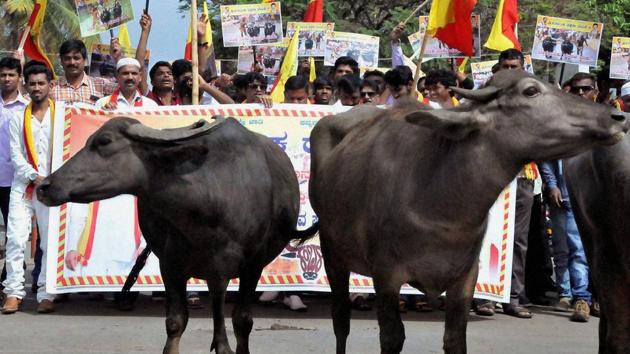 Impact of crackdown on slaughterhouses? India's buffalo meat exports drop 11.4% in April
India is the world's biggest exporter of buffalo meat.
UPDATED ON JUN 07, 2017 10:07 PM IST
In late March, when the Yogi Adityanath-led BJP government in Uttar Pradesh announced a crackdown on illegal slaughterhouses, India's beef export was at its peak, like in previous years.
But a month later, the volume of beef (buffalo meat) exports fell drastically, down by as much as 35.5%.
Official data shows that while 1,37,687 tonnes of beef was exported in March 2017, the figure came down to 86,119 tonnes in April 2017 -- a drop of 51,568 tonnes in just a month.
The data put out by the Union ministry of Commerce and Industry also suggests that the April export this year is nearly 11,000 tonnes less than the corresponding period last fiscal.
In annual terms, India, which has been vying with Brazil for the top spot in global beef exports for many years now, did better till March, the end of the previous fiscal.
Exporters claim the recent attacks by vigilantes on cattle transporters coupled with the crackdown on illegal slaughterhouses, has hit the industry badly. Some say that the trade has gone down by almost 50%.
"The crackdown has affected exports drastically," said Fauzan Alavi, director of Allana Sons, one of the country's largest beef exporters.
Adding to their woes is the latest notification of the Union government banning the sale of cattle for slaughter. As per this order, traders and cattle markets can buy or sell the bovines only for agricultural purposes.
"If we compare previous year's trade, our business has gone down by Rs 600 crore, which is nearly half of our business," Alavi added
India registered a double digit rise in exports of buffalo meat between 2011 and 2014. In 2015, it became the world's top beef exporter and in 2016 it continued to retain its position.
Sirajudin Qureshi, managing director of Hind Agro, another leading meat exporter, said movement of meat from slaughterhouse has ground to a halt across the states for fear of vigilantes.
Beef exports generally go up after January as the demand for cheaper Indian beef increases in the South-east Asian countries in the months preceding Ramzan.
"Just when things had started settling down after demonetisation, the controversy over cow slaughter erupted after the UP state election. We have seen sales dropping by more than half in the last few months. Transporting meat has become a cause for concern and stocks are lying idle," said Arshad Ali, a Delhi-based buffalo meat packer.
However, Ajay Sahai, DG & CEO, Federation of Indian Export Organisations (FIEO), said: "There has been a little dip in exports to Vietnam and other markets but there has been no significant dent in India's exports to these markets during April-March, 2016-17."
While India does not supply cow meat, the US Department of Agriculture (USDA) classifies buffalo meat as beef. According to USDA, India and Brazil were the top beef exporters in 2015-16, each with 19.6 % share of the global exports.
UP, which accounts for over 40% of the country's bovine meat exports, is one of the main production centres. Besides UP, Andhra Pradesh, Maharashtra and Punjab also deal in buffalo meat production.
(With input from Mahua Venkatesh and Suchetna Ray)
Close