India's core sector growth slows to 1% in February
Updated on Mar 31, 2017 06:54 PM IST
The February core sector growth was slowest since December 2015, when it grew 0.9%.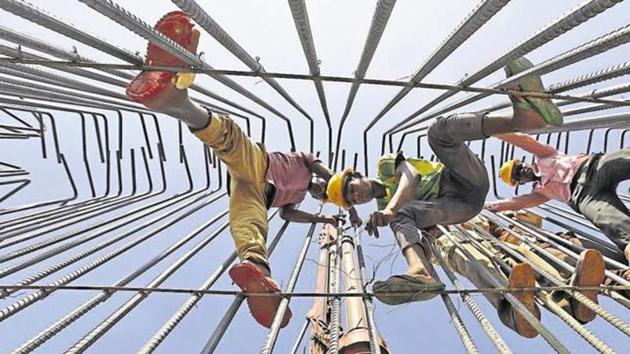 New Delhi |
HT Correspondent
India's eight core industries grew at its slowest pace in 14 months by 1% in February compared to 3.4% in January due to sharp fall in cement and fertiliser output, government data showed on Friday, signalling a tepid industrial expansion and raising concerns over job losses.
The eight core sectors, which contribute 38% to the industrial output, grew 9.7% in February a year ago. The February number was slowest since December 2015, when the core sector grew 0.9%.
During April-February, the core sectors grew by 4.4% as compared with 3.5% a year ago.
In February, steel output was up by 8.7% while coal was up 7.1% and electricity.
However, cement output plunged 15.8% while fertiliser fell 5.3%, refinery products 2.3%, natural gas 1.7% and crude oil 3.4%.
India's industrial output grew just 2.7% in January as cash ban dampened consumer demand and slowed economic output.
In February, the RBI paused on interest rates as it expected inflation to firm up due to the rapid pace of remonetisation.
Since 2015, RBI has lower rates by 175 bps while the government has stepped up spending and speeded up reforms to pump prime the economy amid feeble global recovery.
Earlier, the CSO has projected economic growth is projected at 7.1% for 2016-17 as compared with 7.9% in 2015-16, on expectation of a fall out of demonetisation on the country during the second half.
Personalise your news feed. Follow trending topics