Non-compliant currency: ATMs may take 2-3 weeks to become fully functional
Three days on and long queues of agitated costumers continued to form on Saturday outside banks and ATMs, most of which have remained shut due to a severe currency crunch and because they are incompatible with the new currency notes.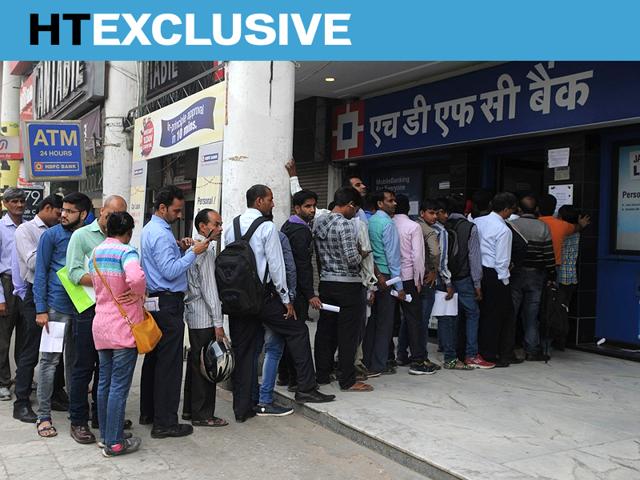 Updated on Nov 13, 2016 03:22 PM IST
If the serpentine queues at ATMs and the long wait to withdraw cash in the past two days were not enough, here is more bad news.
Finance minister Arun Jaitley on Saturday said ATMs are yet to be "recalibrated" for dispensing the newly minted notes, and the exercise would take two to three weeks. "Secrecy couldn't have been maintained if we had recalibrated the ATMs earlier...It is a massive exercise that has already been launched," Jaitley said, adding that the government was monitoring the situation round the clock.
These notes are of a new size and design that require the software --- which helps an ATM count currency notes and dispense them --- to be reconfigured.
There have also been unconfirmed reports that the new size of the Rs 2,000 note is not compatible with ATMs currently in use. Even the new Rs 500 notes come in a different size.
And a machine reconfiguration, if that is what it takes, will take much longer than a software change.
Read: Rs 500, Rs 1000 notes scrapped: 25 things RBI wants you to know
Each ATM machine has four cassettes. In most places, especially in cities, two of these cassettes were used to hold notes in denomination of Rs 500, and the remaining two were split between Rs 1,000 and Rs 100 notes.
In a surprise move, the Narendra Modi government said earlier this week that Rs 500 and Rs 1,000 notes in circulation will not be considered legal from the midnight of November 8. While making the announcement, the Prime Minister said the move was aimed at rooting out corruption and wiping out counterfeit currency notes.
With the introduction of new-look currency bills, all the ATM machines need to be reconfigured, said an official who manages logistics services of several banks in the Delhi-NCR region.
For this, an engineer has to physically visit an ATM and the reconfiguration could take three to four hours, he added.
An engineer can fix between two and three ATMs a day, depending on how much time he or she spends moving from one ATM to another.
There are 2.2 lakh ATMs across the country, which means if 10,000 engineers are pressed into service, they will take at least 10 days to complete the job. Simply put, the long queues and chaos at ATMs are not going to go away soon.
Read | ATMs run dry as people make a dash for cash after demonetisation move
Read | ATMs functioning at 10% capacity, quick relief unlikely for customers
Close Story