Ramdev's Patanjali looks at restaurant business to counter McDonald's, KFC
Updated on Apr 18, 2017 01:59 PM IST
Patanjali is considering to enter the restaurant business to counter rise of foreign firms such as McDonald's and KFC. The decision has not yet been taken.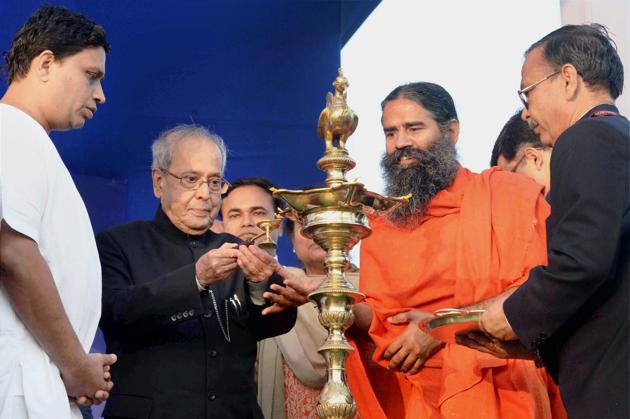 Baba Ramdev took yoga to the masses, and has built a consumer business that is challenging Nestle, Unilever and Colgate. Now, he wants to go after junk food chains such as McDonald's and KFC.
The Godman turned businessman is considering to open a chain of restaurants, according to the company. "There is a proposal. It is being looked at by the senior management, but it has not been finalised yet," said a company spokesperson.
Ramdev has often spoken about denouncing products that are made and sold by multinational companies. Even the restaurant business, when it happens, will be a part of that plan. He has been leading a swadeshi (nationalism) campaign for the past couple of years, which talks about using traditional Indian products -- from healthcare to medicines, and food to personal care products.
On the back of ayurvedic and natural products, Ramdev has built an empire which made Rs 5,000 crore in revenue in 2015-16, and is eying Rs 1 trillion in the next one decade. He has bought land to set up factories and has established a robust supply chain to take the products to masses.
Meanwhile, Postik, a restaurant in Chandigargh's Zirakpur area uses only Patanjali products to make its food. This vegetarian restaurant's walls are adorned with Ramdev's pictures and even the menu card says, "Patanjali Postik". The owners of the restaurant are Ramdev devotees, and hope that some day the yoga guru will inaugurate the outlet.
The spokesperson quoted above said that Postik had approached Patanjali. "But there are larger issues to be dealt with. There is a large space for not only vegetarian food, but "satvik" food, because if you see a large part of the country is consuming junk food from chains such as McDonald's and KFC. That is not good for health," he said.
For Ramdev, the restaurant business can be another way to get more customers for Patanjali products, like he uses Aastha Channel to promote the products along with Yoga.
Market watchers remained sceptical on Patanjali's foray into the restaurant business. "Serving a packaged product is one business and running a services business very different... But from day one, Ramdev has said that Patanjali is the umbrella brand, and they can branch out," said brand expert, Harminder Sahni of Wazir Advisors.
However, Sahni said that Patanjali has handled its positioning quite well since its inception and has built a strong business. Early last year, Ramdev had said that the company will make denims. That hasn't happened, so far.
"I think Patanjali is spreading itself a bit too wide and thin, a tad, too fast... It must remember its core business and weave itself into that weft seamless. It the restaurant business is about ayurveda and holistic eating, it okay, but nothing beyond that," said brand consultant Harish Bijoor.
The nuances of the businesses will be available only when Ramdev and the top management have finalised the contours of the business.
Personalise your news feed. Follow trending topics