Modi's demonetisation woe: Rs 2,000 notes could attract more fake money dealers
Hindustan Times, New Delhi |
Sunny Sen and Suchetana Ray
Feb 23, 2017 05:54 PM IST
Larger denominations are a favourite of counterfeiters as it becomes easy to push a bigger amount through fewer notes, easier to handle, and is cost effective.
The Rs 2,000 note might just become Prime Minister Narendra Modi's Achilles' heel in his mission to crack down on black money, as higher denominations allow currency criminals to pump in larger amounts of fake notes into the system.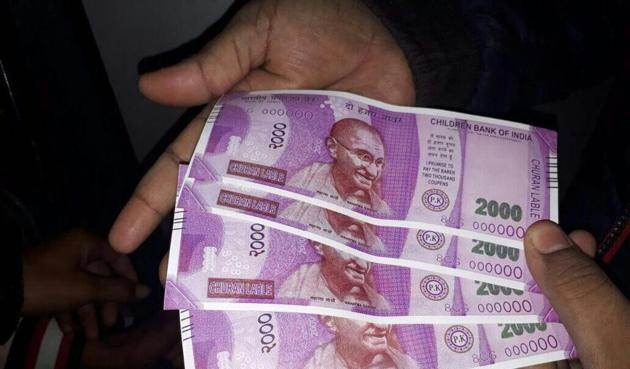 Higher denomination notes everywhere in this world have lured counterfeiters as it is cost effective, and easier to carry. The reason is simple – more black and fake money can be pushed into the system through less notes.
The recent case of fake Rs 2,000 notes at a State Bank of India ATM might be just the beginning of the new high-denomination fake currency, even though the government has introduced more checks, to decipher a fake note from a real one. "You can never make a statement that counterfeiting of currency can be stopped, but by increasing security features, the design of a currency can be an impediment to faking it," said a former Reserve Bank of India official.
A quick search on the web would throw up the US reduced its denomination from 12 to seven, since World War II era – denominations of $500, $1,000, $5,000, $10,000 and $1,00,000 were weeded out.
Larger the denominations, the impact on money laundering and fake currencies is higher. Larger the notes, easier it is for drug traffickers, gun dealers, and smugglers to carry large sums of money.
"Larger denominations carry more value, its easier to print them, and are cost effective… That is one reason why there is a strong argument why RBI should phase out Rs 2,000 note," said Rajiv Kumar, economist and director at Pahle India Foundation.
The government, however, cannot do without larger denominations. "There has to be a balance in the amount of cash floating in the economy… Smaller the note, more difficult is it to handle. It is easier to carry five Rs 2,000 notes, compared to 100 Rs 100 notes," said Mohit Bahl, partner and head of forensic services, at consultancy firm KPMG.
Though it is counter intuitive for the government to introduce Rs 2,000 notes while scrapping Rs 1,000 to crack down on black money hoarding, says MM Joshi, former chairman of the central board of direct tax, but he adds: "The process of remonetisation was easier with a higher denomination note than the ones scrapped."
"Lower denomination notes make it difficult for black money holders to keep in large amounts, Rs 2,000 will make it easier. The government should revisit the Rs 2,000 notes once the economy is back to normal, and the process of remonetisation is over," Joshi added.
Bahl pointed out that the most difficult part in the process of counterfeiting currency, is to push the fake money into the system, and with fewer notes that, too, becomes easier.
That goes against Modi's attempt to curb black money....