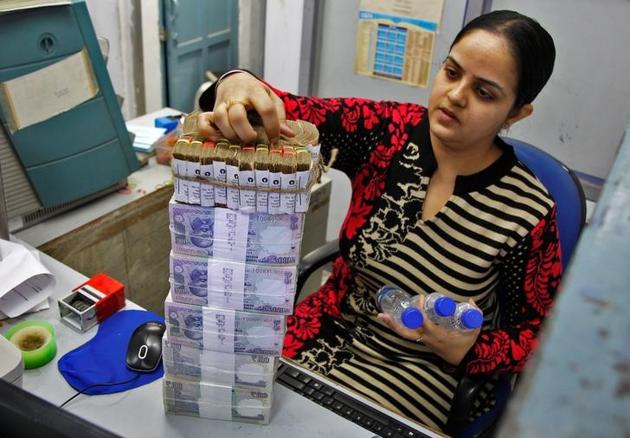 Rs 6.78 lakh cr remonetised, Rs 9.1 lakh cr in circulation: Govt
UPDATED ON FEB 07, 2017 07:11 PM IST
In the ongoing process of remonetisation, banknotes worth Rs 6.78 lakh crore returned to the formal banking system between November 10 and January 13, taking the total currency in circulation to Rs 9.1 lakh crore, the government said today.
"Remonetisation is taking place ceaselessly at a fast pace. Between November 10, 2016 and January 13, 2017, the notes in circulation have increased by Rs 6.78 lakh crore, thereby taking the total notes in circulation to Rs 9.1 lakh crore," Minister of State for Finance Arjun Ram Meghwal said in a written reply in Rajya Sabha.
He was answering question on estimated time period for replacing old high denomination notes with new currency.
Supplies are even being effected by air with direct dispatches to some centres to cut down on delivery time, he added.
In a separate reply, when asked how much old Rs 500 and Rs 1,000 notes (SBNs) were deposited/exchanged upon being de-legalised, Meghwal said specified bank notes (SBNs) worth Rs 12.44 lakh crore were returned to currency chests of RBI by December 10, 2016.
"Reports have been submitted by banks to Reserve Bank regarding the amount deposited in the banks as on December 30, 2016. The data obtained in this regard would need to be reconciled with the physical cash balances to eliminate counterfeit notes, accounting errors/possible double counts, etc, after which only the final figure will be arrived," he added.
Meghwal also informed that a total of 94,899.23 million pieces of all denomination bank notes were in circulation as on November 8, 2016.
While, 59,668.97 million pieces of circulating coins of all denominations were minted and lifted by RBI during 2008 to November 8, 2016.
In another query if Rs 1,000 denomination note will be reintroduced, he said: "The new bank notes in denominations of Rs 2,000 and Rs 500 are already in circulation and other denomination bank notes will be circulated in due course."
On a separate query on money withdrawn from Jan Dhan accounts, Minister of State for Finance Santosh Kumar Gangwar said Rs 27,879.71 crore were taken out during November 13, 2016 to January 20, 2017.
However, he also informed that no information has been maintained if the amount deposited in Jan Dhan accounts belonged to the account holders.
Answering about quantum of banned Rs 500 and Rs 1,000 currency notes deposited in Jan Dhan accounts, Gangwar said RBI does not have the break-up of the SBNs deposited into Jan Dhan accounts.
Close