Natarajan Chandrasekaran named new chairman of Tata Sons, first non-Parsi to head the group
Updated on Jan 13, 2017 11:11 AM IST
India's $100 billion salt-to-software conglomerate Tata Sons named Natarajan Chandrasekaran as their new chairman on Thursday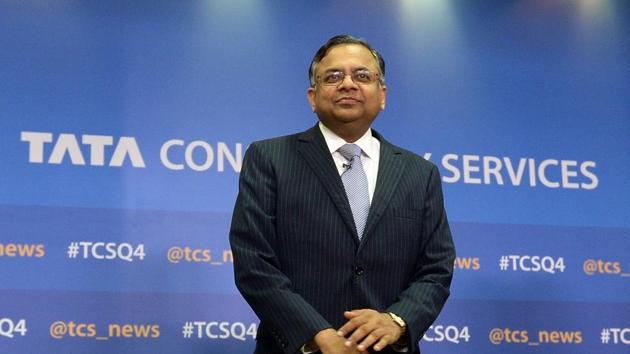 Hindustan Times, New Delhi |
Suchetana Ray and Sunny Sen
Tata Sons on Thursday named Natarajan Chandrasekaran as its new chairman, ending months of speculation over leadership at the Tata Group -- the $103-billion salt-to-software conglomerate that is embroiled in a bitter feud with its ousted chairman Cyrus Mistry.
Chandrasekaran, who currently heads Tata Consultancy Services, is the third non-Tata, after Nowroji Saklatwala and Cyrus Mistry, to hold this position. TCS is the most successful Indian IT company valued at $67 billion -- that's 60% of the Group's market value and 70% of the dividend earnings of Tata Sons, the group's holding company.
Fondly called "Chandra", the 53-year-old Tata veteran grew up with TCS. He started as a software programmer in 1987; rose through the ranks to take the top job when he was just 46 and become one of the youngest CEOs in the Tata group. Under him, TCS revenues grew 24% annually.
Chandra "ticks two very important boxes," said Morgen Witzel, author of Tata, the Evolution of A Corporate Brand. The first is the international experience. "Secondly, he has been part of the Tata group for many years and well aware of group's values and ethos and knows the 'Tata way' of doing things," said Witzel.
He was inducted on the board of Tata Sons on October 25, a day after its board ousted Cyrus Mistry and named RatanTata as the interim chairman, kicking off a boardroom battle that has now reached the National Company Law Tribunal. Mistry was removed on charges that he disregarded Tata traditions, values and ethos.
Read | N Chandrasekaran profile: Key facts about the new Tata Sons chairman
A selection committee, which was then set up to pick Mistry's successor, unanimously chose Chandra, a Tata Group statement said Thursday.
"We believe he will now inspire the entire Tata group to realise its potential acting as leaders in their respective businesses, always in keeping with our value system and ethics and adhering with the practices of the Tata group which have stood it in good stead," the statement said.
Chandra, who takes over on February 21, has "global experience, deep business acumen and long association with the Tata Group, which will prove invaluable in his new role," said Chanda Kochhar, CEO and managing director of ICICI Bank.
He has already proven his operational and leadership skills at TCS, but he now has a much bigger challenge on hand – to quickly consolidate the 150-year-old group's unwieldy operations and steer it through the crisis following Mistry's ouster.
Chandra's biggest challenge will be that he has never handled some of Tata's brick and mortar businesses such as steel and automobiles, neither has he restructured a conglomerate.
"No one comes with the experience of leading a company as complex as Tata Sons," said Kavil Ramachandran, professor at the Hyderabad-based Indian School of Business. "Chandra might have the potential but he has to build himself to lead a $103-billion conglomerate."
(With inputs from Mint)
Read: All you need to know about Cyrus Mistry's sacking as Tata Sons chief, aftermath