Mukesh is India's first trillionaire
Updated on May 28, 2007 03:39 AM IST
His younger brother Anil Ambani trails behind closely with nearly Rs 90,000 crore in stock market holdings.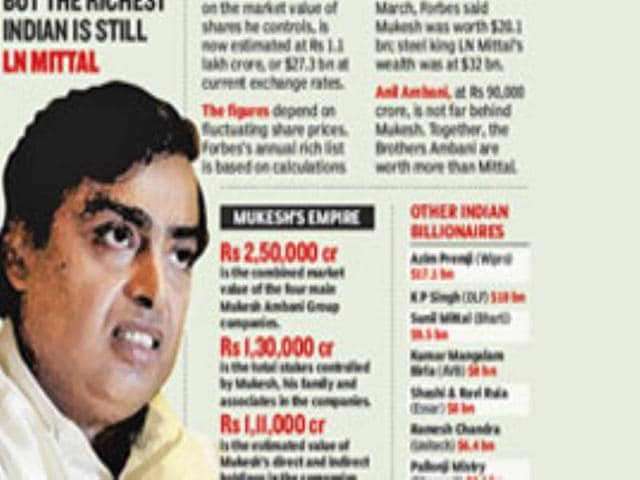 A sharp surge in share prices of his group companies has earned Reliance Industries Chairman Mukesh Ambani a rare distinction. He is India's only trillionaire. He has more than Rs 1,00,000 crore of wealth through his shareholdings.

Younger brother Anil trail close with nearly Rs 90,000 crore in the stock market through his holdings.
Now, just how big is a trillion? For those who are blasé about figures, writer Bill Bryson has a useful perspective. In his book Notes From a Big Country, he writes: "If you were locked in a vault and you could keep every dollar bill you initialled, (we're assuming that you initial one bill every second and that you don't need to eat, sleep or take comfort breaks) do you know how long it would take you to make a million dollars?"
It would take you 31,709.8 years to get to your first trillion.
That sorted, one must note that the figures depend on fluctuating share prices, and rich-list rankings can be influenced by the exchange rate of the rupee.
Mukesh, based on his direct and indirect holdings in various group companies, is estimated to have control of about Rs 1,11,000 crore worth shares.
The wealth of the two Ambanis include value of shares held in their names, as well as those held in the names of their children, wives and various holding companies.
In March, Forbes estimated Mukesh's stakes at $20.1 billion; London-based steel tycoon LN Mittal was then at $32 billion. Together, the Ambanis are worth more than Mittal.
Other Indian billionaires include Azim Premji of Wipro, Kushal Pal Singh of DLF, Sunil Mittal of Bharti, Kumar Mangalam Birla of AVB, Shashi & Ravi Ruia of Essar, Ramesh Chandra of Unitech and Pallonji Mistry of Shapoorji.
Close Story
Personalise your news feed. Follow trending topics