'We have put the train back on the rails. It is now accelerating'
When we took over the economy a year ago, it was like a train that has derailed and what we have been able to do in the last year is not just put it back on track but we have been able to take a passenger train and make it like a Rajdhani. Hopefully we will make it a bullet train as well.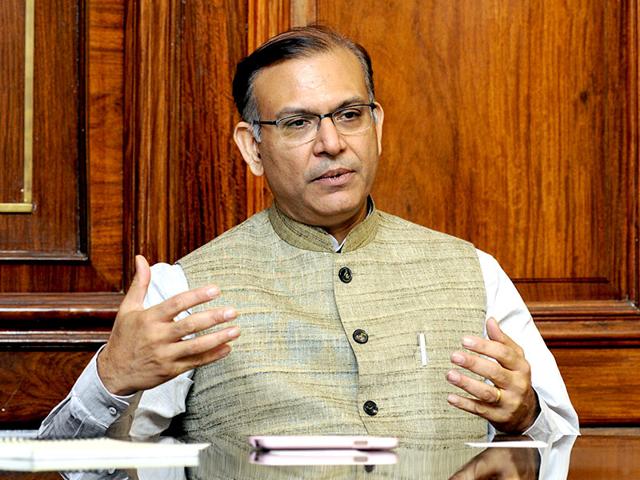 Updated on May 29, 2015 12:46 AM IST
Hindustan Times |
, New Delhi
Timsy Jaipuria
The government has put processes in place, and results will be visible in 6-12 months, minister of state for finance Jayant Sinha told HT in a freewheeling interview. Excerpts:
On achievements in the first year
When we took over the economy a year ago, it was like a train that has derailed and what we have been able to do in the last year is not just put it back on track but we have been able to take a passenger train and make it like a Rajdhani. Hopefully we will make it a bullet train as well. There are certain things which we have done which are quite revolutionary. Of course they are different from what most people expect or look forwards which is why they have not been fully appreciative of but if you look at what has happened with the devolution to the states from 32% to 42% and what we are doing in terms of GST which hopefully will be passed in the monsoon session and will in-fact be in force from April 1 2016, and the combination of these two fundamentally resets the fiscal architecture of the Indian state and the centre. Other revolutionary changes undervalued by people are social security moves like Jan Suraksha, protecting every Indian citizen. And to provide this is why we went out initially to have a bank account with every household. And next is the DBT.
On what lies ahead
What we have to focus on over the next two three years is implementation. I think we have got our policies in place and now to achieve the economic stabilisation we have to ensure the execution of these policies, we have to ensure that railway lines have to be laid, national highways have to be built, bridges have to be built, the social security scheme has to be adopted. So really the focus over the next two-three years is going to be not just the list mile problem but run through to a last person problem.
On the new Income Tax form
I would not call it a sticky issue, rather the government has been responsive to the reaction of the people on the set of forms which were released and were assumed to be as too long. we recognized the concerns…and are streamlining those forms. I cannot tell you an exact date when the new forms will come out but yes they are under process. Obviously as the finance minister has been saying that we are trying to make the forms as easy and streamlined as possible for the vast majority of individuals as possible…For a certain set of tax payers it is going to be complicated and it is complicated whether it is in India or in US or the UK and elsewhere.
On the ideal growth rate for the economy, job creation and when conditions for business will improve
I am less worried at the GDP growth rates on a year to year basis but rather what I think is very important for the economy is to lift the economy to a stable and be able to have a non inflationary growth trajectory where we are growing consistently at 8% and over. For the next 10 or 15 years that is really what is necessary so as to ensure of India achieves to what is its potential.
You have a lot of people talking that business conditions are difficult or the job creation has not happened as yet or the condition is still tight: That is exactly to be expected when you go through a year of consolidation. But now that we have gone through the consolidation phase we have put the train back on the rails and the train is now accelerating because of the cyclical upswing and the structural boost and public investments that we are doing, we are going to see the economy taking up. So if you ask me, it will take another 6 to 12 months before business conditions start to feel as if they are in a really good situation.
On the impact of a poor monsoon
We have gone through a difficult monsoon last year and we were well prepared for that and this year we are again prepared; the 6-12 months… presumes a normal monsoon. If we get a monsoon same as last year then we will be fine and if we get a monsoon much below or worse than that then there is more agrarian distress and that's problematic. And in only that case it would further push the 6-12 months out.
I think the economy has started to do much better. We have started seeing a whole host of indicators whether it is FDI which has moved up quite a bit, whether it shipment of coal, whether it is the sale of commercial vehicles or cars whether it is consumer spending. These are physical indicators but before they show up as companies' profits and earnings, then that will take some time. So the signs are there. And there are other whole range of aspects that we see before saying so like the credit off take of banks, the share of NPAs, the number of stalled projects that have been unclogged. We obviously look at the currency how it is doing and with respect to the movement of other currency's we look at the capital flows. So there is a whole host of metrics which we keep our eyes on.
RBI's coming rate decision
All those who want to see a booming economy would want to see a rate cut and as the FM Jaitley has stated and Chief economic adviser has said that is the stated stand of the government. And personally I think the rates should come down but ultimately it is RBIs prerogative and I think we should leave it to them and it is really good for us to have a very healthy tension with one set of eyes with one set of perspectives with the RBI and another set of eyes with another set of perspective, and a central bank with its independence.
On good luck with oil prices
Oh yes, we have been really blessed with a very favorable oil prices and we have been able to achieve this macroeconomic stabilization much quicker than we assessed largely because of oil prices. And had these oil prices not come down much quicker or as much as they have then the situation would have been still quite difficult. I think we are comfortable with $50-80 (a barrel) and what all midterm expectations we see hint it at being in the same range.
On restrictions on cash use for buying jewelry
We are taking all those representations into our thinking. We have not yet formalised our policy yet. So let us think to on it before we formalise our policy. I have myself heard those representations and we are actively considering them before we come out formally on this policy.
Close Story
Personalise your news feed. Follow trending topics