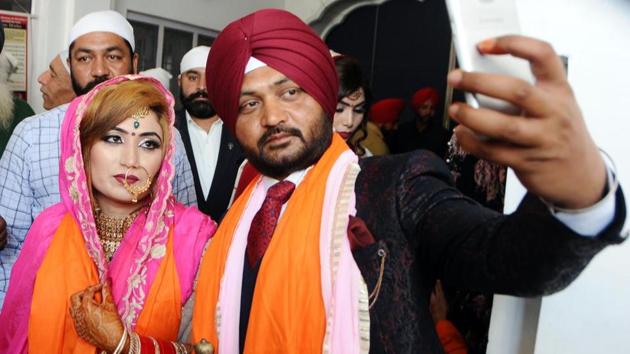 Amid Indo-Pak tensions, Ambala youth ties the knot with Sialkot girl
The two were engaged in 2016 when Sarjeet visited her maternal uncle's house at Samana in Patiala.
UPDATED ON MAR 09, 2019 10:01 PM IST
At a time when tension between the two neighbouring countries continues to simmer in the wake of airstrikes on a terror launch pad across the border, a 33-year-old man from Ambala tied the knot with a woman from Sialkot in Pakistan.
Telecom contractor Parvinder, 33, who hails from Tepla village of Ambala, married Kiran Sarjeet, 27, in a simple ceremony following Sikh traditions. The two were engaged in 2016 when Sarjeet visited her maternal uncle's house at Samana in Patiala.
Parvinder, who is the youngest of three siblings, said he has known Sarjeet for long since she is a distant relative of his aunt (wife of father's younger brother). Her family had stayed back in Sialkot during Partition in 1947. She was teaching in a private school in Pakistan. The family has arrived in India on a 45-day visa.
Parvinder was sceptical about marriage, when tensions brewed between the two countries in February. The girl and her family could not come with the Samjhauta Express cancelled. Hours before the marriage, the SGPC-controlled gurdwara was hesitant to perform the ceremony. However, later the authorities intervened the and the ceremonies were performed.
"All's well that ends well," said Parvinder, as he starts a new phase of his life.
"I am happy. Now, I request that the Indian government to grant a visa to my wife for Ambala, so that she can stay with me at my parental house. Presently, she has visa only for Patiala, thus I have taken house on rent at Patiala to stay with her. I do hope that the Indian government will resolve this issue at earliest," he said.
"I hope that the marriage sends signals of love and peace to people of both countries. Tension should be reduced and friendship should be encouraged," said Parvinder, adding that he was told by some of his friends, who have in-laws in Pakistan, to go ahead with the wedding, as the Indian government was generous in granting citizenship to married women.
Tepla sarpanch Summet Kaur said he requests authorities to grant the visa to Sarjeet for Ambala, so that she can stay at her husband's house. "Now, she is married to an Indian boy and is our daughter-in-law, and the government should extend this facility to her," she said.
Surjeet Singh Cheema, the bride's father, said, "If peace prevails, then only both countries can grow and become prosperous. Tension between neighbouring countries is not good for the people of the region. Both countries should not forget that they have the same culture, same people, and dialogue is the only solution." He said that he was happy in Pakistan, "My daughter found Parvinder suitable for her and married her."
Close