According to the prosecution, Gurnam Singh was beaten up by Sidhu in a road rage incident at Patiala in December 1988. The victim was taken to a hospital where he was declared dead.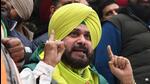 Inspector general of police (Patiala range) Mukhwinder Singh Chhina said 24 people were identified as accused in the clash.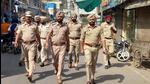 Meanwhile, mobile internet and SMS services, which were suspended from 9.30am by the state's home affairs and justice department, were restored around 4pm.

Patiala IGP MS Chhina said that six FIRs have been registered in connection with the violence so far, and the main accused and mastermind has been identified as Barjinder Singh Parwana - who is yet to be arrested.

Written by Sharangee Dutta | Edited by Poulomi Ghosh
, New Delhi
Mobile internet services were suspended in Patiala district between 9.30am and 6pm of Saturday, but has been restored before time.

Written by Sharangee Dutta | Edited by Poulomi Ghosh
, New Delhi