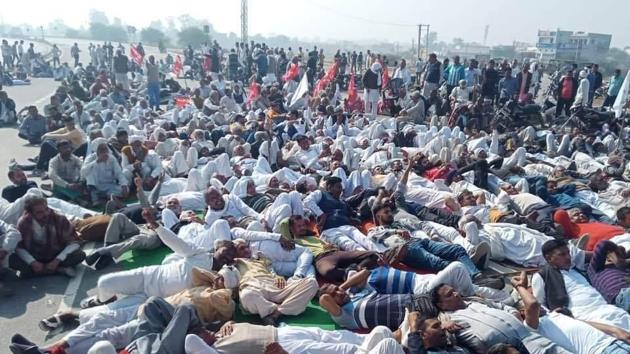 Farmers block highways in Hisar, Jind and Rohtak in Haryana
Police issue travel advisory, asking commuters to modify journey plans in view of the Bharat Bandh call
Hindustan Times, Rohtak | By HT Correspondent
UPDATED ON DEC 08, 2020 02:19 PM IST
Farmers blocked national highways passing through the state on Tuesday morning in response to the Bharat Bandh called by farmer organisations to protest the Centre's new farm laws even as Haryana Police issued a travel advisory on traffic disruptions.
The farmers blocked the Hisar-Chandigarh, Rohtak-Chandigarh, Hisar-Sirsa, Jind-Patiala, Jind- Rohtak, Bhiwani-Rohtak and Delhi-Rohtak highways.
Haryana Roadways has suspended services on two routes from Jind to Sonepat and Jind to Hisar after the farmers blocked the roads in support of the bandh call.
Also read: Punjab farmers block highway to Chandigarh
Additional director general of police (ADGP), law and order, Navdeep Singh Virk said: "Almost all towns in the state except Nuh and Narnaul are likely to be impacted by big or small road jams."
He said elaborate arrangements have been made to maintain the supply of essential items and to facilitate the functioning of the public transport system besides preventing violence. "The instructions in force due to the Covid-19 pandemic have also been kept in mind," Virk said.
Vikram Kaswan, a farmer on dharna on the Hisar-Rajgarh highway near Muklan village, said the protesters made way for students going to appear in the Delhi Police written exam besides ambulances and those headed for weddings. " We are fighting for our rights. If the Narendra Modi government fails to address our issues, we are ready for a long protest," he said.
Shops, malls and business activities remained suspended in Rohtak and other towns.
Haryana Roadways employees closed gates at Dadri depot in support of the farmers.
Close