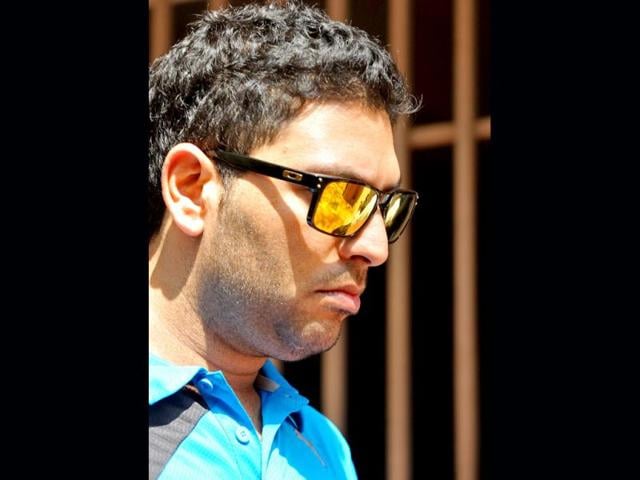 Yuvraj Singh's father feels treatment was delayed
Yuvraj Singh's father Yograj Singh today lamented that his son's treatment was delayed a bit and that the dashing left-hander had not taken seriously his advice to get himself checked up two years back. Respect Yuvi's privacy: BCCI to media
UPDATED ON FEB 18, 2012 07:10 PM IST
Yuvraj Singh's father Yograj Singh on Monday lamented that his son's treatment was delayed a bit and that the dashing left-hander had not taken seriously his advice to get himself checked up two years back.

"I don't want to blame anyone. But I feel that things could have been different today. If you recall, two years when Yuvi was playing in a T20 match at Mohali and played match-winning innings, in which after hitting a six he came running towards Suresh Raina and could be seen coughing badly," Yograj recalled how the early signs of his son's illness were not picked up seriously.
Struggling to hold back his tears, the former Test cricketer said he had then advised Yuvraj to get a thorough medical check up done, but he had brushed it aside saying he was not a kid and that he was alright.
"But I knew that something was wrong...six months back the doctor who saw the laboratory reports of Yuvraj had pleaded that he should be taken to the US for treatment. With folded hands, the doctor said that best treatment is available in the US...but I don't blame anyone," he said speaking at his residence here.
Yuvraj is considered closer to his mother Shabnam Singh, who lives in Gurgaon and is currently with his son who is receiving treatment in the United States.
Yograj lives separately in Chandigarh.
He, however, felt that ultimately right thing had happened that Yuvraj did not play in Australia otherwise matters could have turned worse.
Trying to put up a brave face, Yograj said that he had spoken to his son, who was in good spirits.
"He is responding well to the treatment and God willing we should see him back in action very soon," he said.
The illness of Yuvraj has also resulted in strong bonding between him and his father more than ever before.
"Yuvi is lion hearted. He is a sher (lion). You will see him roar once again (on the field)," said his father.
Yuvraj had played a stellar role in India's ODI World Cup triumph last year.
The 30-year-old left-hander has been in the US since last month being treated for what was earlier claimed to be a tumour in the lungs, by his family.
Close