Payday is here: Banks brace for rush, many skip office to withdraw cash
Police guarded banks and cash dispensing machines in many places over the possibility of people's anger spilling over with the government's mints failing to churn out enough notes to keep up with the demand since the November 8 shock announcement took out 86% of the currency out of circulation.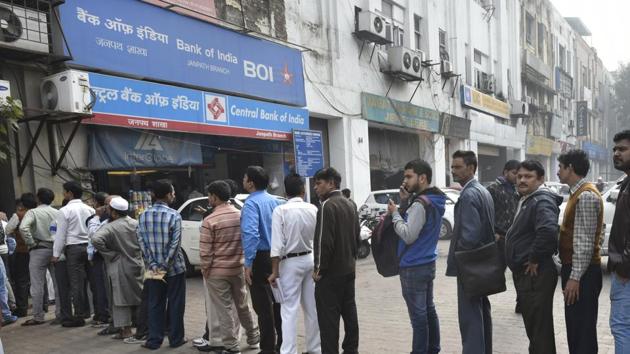 Updated on Dec 01, 2016 02:30 PM IST
Customers damaged furniture at a state-run bank in Uttar Pradesh on Thursday and reports of public anger spilling over emerged from other places as the government struggled to meet the demand for cash on the first payday since the recall of high-value banknotes.
Across the country, tens of thousands of people lined up at banks and ATMs raising fears of more chaos amid the severe cash crunch, sparked by the government's decision that pulled out 86% of the currency in circulation.
Police guarded banks and cash dispensing machines in many places as mints failed to churn out enough notes to keep up with the demand.
LIVE COVERAGE: Long queues outside banks, ATMs as payday pangs continue
Police said angry customers barged into an Allahabad Bank branch in Meerut when they were informed about the unavailability of cash. The people also broke the glass panes at the cash counter, bank manager Harendra Singh said.
There were reports of people blocking roads and staging demonstrations in Bijnore, Hapur, Moradabad, Amroha, Baghpat, Bulandshahr and Saharanpur. Police said the incidents happened late on Wednesday.
Meerut city superintendent of police Alok Priyadarshi said he has advised bank managers to put up signboards displaying the amount of cash received and an estimated number of customers who could withdraw cash.
On Wednesday, there were reports of angry customers locking up bank staff at a few branches in Tamil Nadu, Uttar Pradesh and Bihar.
The All India Bank Employees' Association admitted the "situation is getting out of hand".
"We have no cash…there is a huge shortage…this chaos will continue at least till the 10th (of this month)," said a senior official of a private sector bank.
Fearing backlash from customers, the Punjab National Bank Officers' Association in Allahabad wrote to the CMD and CEO seeking adequate cash.
Read: Little cash in hand, Delhi deals with payday pangs
Most government and private sector employees get their salaries credited to their accounts on the last day of the month and millions of people were expected to withdraw cash to meet their immediate needs –such as school and medical fees, newspaper bills, and other sundry purchases. In India, 78% of consumer payments are made in cash, which the government is attempting to change.
Many private companies have given a day off to employees on Thursday to enable them to withdraw cash.
"I had somehow managed the daily needs. But now the shopkeepers have stopped giving credit…the house maid, newspaper vendor and the washer man have started demanding money and that too in cash," said Amit Vijay, 36, as he stood in queue outside a bank in Sarita Vihar in New Delhi.
Many people standing in queue outside banks said they had taken off from work to withdraw money as they had to clear pending bills.
Read: Worse days ahead in the capital as banks, ATMs run out of currency
"Mine is a family who lives by my salary only. If I don't give them money on time, what will happen to them?" said Jatin Shah who waited in a long queue outside a bank in Mumbai's Borivli.
In Kolkata, most ATMs either ran out of cash or were dispensing only Rs 2000 notes that inconvenienced most people.
"I didn't waste time standing in queues outside ATMs. First, the withdrawal limit from ATMs is small and second, they could run out of Rs 100 notes any time. Instead, I rushed to the bank. I was behind around 20 people even at 8 am," said Amiya Halder, an employee of a private company.
The government has put a cap of Rs 24,000 on what a person can take out in a week and all of it can be done in one go. However, on Wednesday banks in major cities were giving out no more than Rs 10,000 per person, and shrinking the amount to Rs. 4,000 at some branches.
The Reserve Bank of India (RBI) said it has increased printing of Rs 500 notes by 25%.
"The printing of Rs 2,000 notes is over and the presses can now switch lines to the Rs. 500 note," said a finance ministry official. The presses cannot print the two notes simultaneously. The official said it will take another three weeks to have enough Rs 500 notes in banks and ATMs.
Close Story