Pilot killed as trainer aircraft crashes after hitting temple dome in MP
Jan 06, 2023 12:48 PM IST
A trainee pilot was injured and is being treated at Sanjay Gandhi Medical College in Madhya Pradesh's Rewa in critical condition
A pilot was killed while a trainee pilot was injured when a trainer aircraft crashed after colliding with a temple dome in Madhya Pradesh's Rewa on Thursday late night, said police.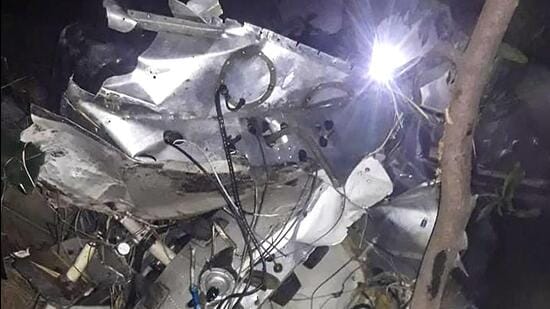 Captain Vishal Yadav died on the spot while trainee pilot Anshul Yadav was rushed to the Sanjay Gandhi Medical College in Rewa, said Navneet Bhasin, superintendent of police (SP), Rewa.
"The accident took place late night in Umri village. Captain Vishal Yadav and Anshul Yadav were practising in an aircraft belonging to Paltan Training Company. The plane was flown from Chorhata Air Strip in Rewa. Due to dense fog, it first collided with a mango tree and later to a dome of a temple," said Bhasin.
Locals heard loud sound of the collision and rushed to the spot. The police team reached the spot along with the force for rescue work. Vishal and Anshul were taken to hospital, where Vishal was declared brought dead while Anshul is being treated in critical condition.
An investigation is on to know the license of the company and the condition of the aircraft.