Bihar bypolls 2021: Tejashwi Yadav confident RJD will win by 'handsome margin'
Nov 02, 2021 10:50 AM IST
Bihar Bypolls Results 2021: Yadav also warned that he won't let anybody 'steal' the people's mandate.
Rashtriya Janata Dal (RJD) leader Tejashwi Yadav on Tuesday expressed confidence that his party would win by a 'handsome margin,' as counting of votes began for bypolls to two assembly constituencies in Bihar, the voting for which was held on October 30. Yadav, the leader of opposition in the state assembly, also stressed that he won't let the mandate of the people be 'stolen by anybody.'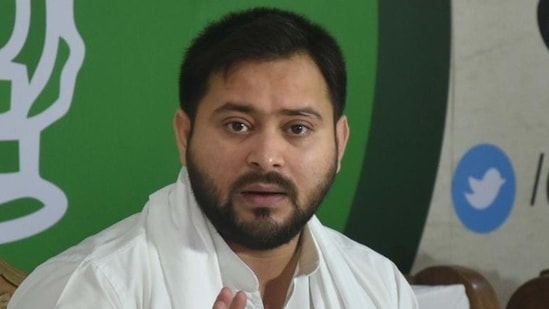 Follow Live updates on Bihar bypolls vote counting here
"We'll win by a handsome margin. If the administration or other people try to create any disturbance, then I'm here in Darbhanga. I'll not let the mandate be stolen by anybody. Our teams are here and overseeing everything," Yadav said, according to news agency ANI.
As per the latest update, arch-rivals JD(U) and RJD, also former allies, are leading on one seat each, with candidate from the other party on second place. In Tarapur, Arun Kumar Sah, fielded by former chief minister Lalu Prasad Yadav's outfit, is ahead of Rajiv Singh from the ruling party by 917 votes. Meanwhile, in Kusheshwar Asthan, Aman Bhushan Hazari from chief minister Nitish Kumar's party is leading RJD's Ganesh Bharti, with the seventh round of counting underway.
Also Read | Bihar bypolls: Initial round of counting shows mixed results for RJD, JD(U)
By-elections for the two seats were necessitated due to the demise of the sitting legislators, both of whom were from the JD(U). Mewalal Chaudhary was the MLA from Tarapur, while Shashi Bhushan Hazari represented Kusheshwar Asthan.
In the assembly elections last year, which were held across three phases in October-November, the ruling National Democratic Alliance (NDA), comprising primarily of the JD(U) and the Bharatiya Janata Party (BJP), emerged victorious over the Mahagathbandhan (Grand Alliance), which comprised the RJD, the Congress and the Left.
In the 243-member Bihar legislative assembly, the NDA won 125 seats, while the Mahagathbandhan secured 110 seats.