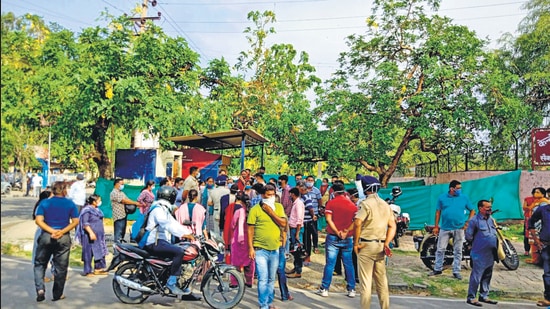 Chandigarh police constable suspended over bribe charge
The cop has also been accused of moral policing while his unidentified accomplice, a civilian, allegedly sent obscene text messages to a woman detainee and misbehaved with the complainant's mother
PUBLISHED ON JUN 16, 2021 01:15 AM IST
A constable posted at Sector 31 police beat box has been suspended for allegedly demanding bribe from three youths, including a woman, after detaining them from a park here on Monday afternoon.
The cop has also been accused of moral policing while his unidentified accomplice, a civilian, allegedly sent obscene text messages to the detained woman and misbehaved with the complainant's mother.
The Chandigarh Police constable has been identified as Mange Ram.
His suspension came after the family members of the three youths detained by him laid siege to the Sector 31 beat box and then the police station on Tuesday demanding action against the cop and his accomplice.
"Moral policing will not be tolerated at any cost. The constable is accused of seeking bribe. I have recommended a departmental inquiry against the constable along with his suspension," said Shruti Arora, assistant superintendent of police (ASP), Chandigarh south.
However, the police are yet to identify Mange Ram's accomplice. "He will be arrested soon, and action will be taken against him for sending inappropriate messages to the girl in the night," the ASP said.
Cutting cake in park led to youths' detention
In his complaint, Yogesh Manchanda of Sector 26, Chandigarh, told the police that he had come to Sector 31 with his friend to celebrate the birthday of another friend.
The trio sat in the park while maintaining social distancing and adhering to other Covid safety protocols. As they were cutting the birthday cake, the constable accompanied by his accomplice arrived at the park around 3pm on Monday. Mange Ram objected to the celebration and started hurling abuses at the youths for sitting in the park. He even confiscated their mobile phones and demanded ₹4,000 threatening to register an FIR against them if they failed to pay up.
The cop then took them to the Sector 31 beat box, where he allowed Yogesh to go out and get the bribe money. However, he made his female friend sit in the beat box where there was no woman constable for about two hours. It was only after Yogesh returned to the beat box along with his family that the girl was released.
Cop's aide sent obscene texts to detainee
Yogesh stated in his complaint that the constable had jotted down their mobile phone numbers. In the night, the unidentified man, who had accompanied the constable, sent obscene messages to his female friend. He even misbehaved with Yogesh's mother and used vulgar language against her when she confronted the accused for sending obscene messages to his son's female friend.
Close