Chandigarh's air quality turns 'poor'
Updated on Nov 27, 2022 01:44 AM IST
The average AQI over the past 24 hours till 6 pm on Saturday was worst at the Sector-53 CAAQM, where it was recorded as 265, followed by 224 at the Sector-22 CAAQM and 107 (moderate) at the Sector-25 CAAQM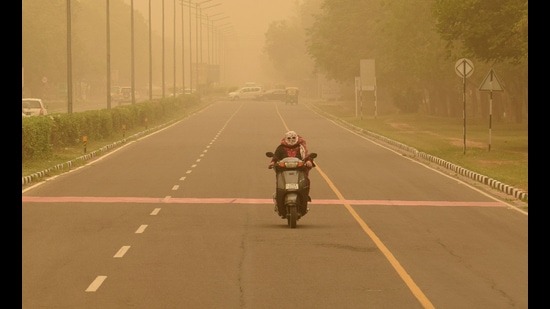 After remaining in "moderate" category for some days, city's air quality turned "poor" again on Saturday.
The Air Quality Index (AQI) was recorded in the "poor" bracket (201-300) at two of the three Continuous Ambient Air Quality Monitoring Stations (CAAMS) in the city.
The average AQI over the past 24 hours till 6 pm on Saturday was worst at the Sector-53 CAAQM, where it was recorded as 265, followed by 224 at the Sector-22 CAAQM and 107 (moderate) at the Sector-25 CAAQM.
An AQI between 200 and 300 can cause breathing discomfort to most people on prolonged exposure. When it's between 100 and 200, it can cause discomfort to people with lung and heart diseases. An AQI between 50 and 100 can also cause minor breathing discomfort to sensitive people.
UT environment director Debendra Dalai said, "With dip in the temperature and high pressure in the atmosphere, the air quality gets poor. The AQI improves on sunny days and deteriorates on foggy days."
Meanwhile, the city's night temperature dipped slightly from 9.9°C on Friday to 9.7°C on Saturday, still one degree above normal, according to the India Meteorological Department (IMD).
The day temperature also saw a little change from – 26.4°C on Friday to 26.3°C on Saturday, also one degree above normal.
Over the next three days, the maximum temperature will remain between 25°C and 26°C, while the minimum temperature will stay around 10°C.