CM Mann visits BSE, showcases Punjab as investment destination
Published on Jan 25, 2023 12:45 AM IST
The CM, while interacting with the media at the BSE, described Punjab as a land of opportunities and invited the companies to invest in the state. He said entrepreneurs will be immensely benefited by investing in the state, which is rapidly emerging as the industrial hub of the country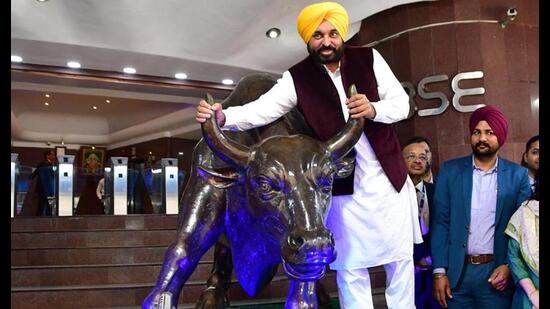 Chandigarh : Chief minister Bhagwant Mann on Tuesday visited the Bombay Stock Exchange (BSE) and showcased Punjab as the "most preferred investment destination" across the country.
The CM, while interacting with the media at the BSE, described Punjab as a land of opportunities and invited the companies to invest in the state. He said entrepreneurs will be immensely benefited by investing in the state, which is rapidly emerging as the industrial hub of the country.
The CM was on a two-day visit to Mumbai to draw investors to the state.
Mann urged the industrialists to make optimum use of this congenial atmosphere backed by excellent infrastructure, power, skilled human resources and best industrial and work culture to spread their business. He said the state government is always open for new ideas and innovations to boost up the industrial growth in Punjab.
Inviting the captains of industry to visit the state to participate in the 'Invest Punjab Summit' slated to be held next month, the CM said that it will prove to be a milestone in giving a major fillip to industrial growth of the state. The main motive behind giving fillip to industrialisation in the state is to reverse the trend of brain drain in Punjab by opening new vistas of employment for the youth, he added.
The government is thinking of having 'colour coding' on stamps, under which they will play all the taxes, duties and mandatory fees upfront, resulting in quicker set up of industry, Mann said, adding that the government is committed to ease all the procedures for setting up industries.
Mann, who had a meeting with the representatives of Tata group, said the work on setting up a scrap-based steel plant by Tata Steel at a cost of ₹2,600 crore kicked off in Ludhiana on Tuesday. The CM congratulated the group for starting work on this ambitious project and assured his government's full support and cooperation. "This project is the first-ever investment made by the company in the state and second biggest in the country after Jamshedpur," he said.
He also expressed hope that investment by this industrial group will further put the state on a high growth trajectory of industrial development, besides opening new vistas of employment for the youth. The CM said that the electric arc furnace-based plant will produce 0.75 MTPA finished steel. The plant will be spread over 115 acres of land adjacent to the state-of-the art industrial park developed by PSIEC, he added.
BSE chief executive officer Sundararaman R felicitated the CM on the occasion.