How Rahul's yatra could act as binding force for Congress, PAGD
Jan 28, 2023 12:39 AM IST
NC vice-president Omar Abdullah had on Friday morning joined the yatra at Banihal and walked along Rahul when he entered the Valley through the tunnel that connects Jammu with the rest of Kashmir
As the Bharat Jodo Yatra led by Rahul Gandhi entered Kashmir on Friday, many believe it could act as a binding force between the People's Alliance for Gupkar Declaration (PAGD) that is fighting for the restoration of Article 370 and the Congress that is struggling for its survival in the UT, especially after former J&K chief minister Ghulam Nabi Azad formed his own party.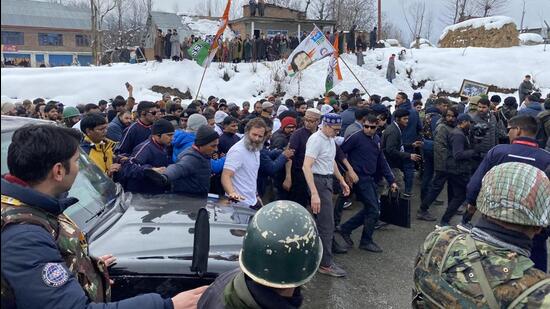 On January 19, when the yatra entered J&K, National Conference president and PAGD chairperson Farooq Abdullah, along with Awami National Conference (ANC) vice-president Muzuffar Shah, had received Rahul. Abdullah joined the yatra second time since its beginning last September. Apart from the NC, the ANC, the PDP and the CPI (M) are part of the PAGD.
PDP president Mehbooba Mufti, who is going to walk along with Rahul in Kashmir on Saturday, sent her good wishes to the Congress leader and tweeted on January 19, "He brings a message of love and peace at a time when the country is being fuelled by hatred. We welcome his efforts to heal these wounds."
On Saturday, she, along with her daughter Iltija Mufti, will be joining the yatra at Nambal toll plaza in Awantipora and participate till Srinagar.
NC vice-president Omar Abdullah had on Friday morning joined the yatra at Banihal and walked along Rahul when he entered the Valley through the tunnel that connects Jammu with the rest of Kashmir.
"We have not joined it for an individual, but for the image of the country. It might be for the first time the ruling party does not have a single member in the Parliament -- neither in the Lok Sabha nor Rajya Sabha -- from the Muslim community. It shows their attitude," Omar said.
"The government wants people of J&K to beg for elections, but we are not beggars... won't beg for it," he added.
NC chief spokesperson Tanvir Sadiq, who too travelled along with Omar, termed the yatra significant.
"J&K has witnessed trust deficit and the distance between Delhi and Kashmir post August 5, 2019, has widened. Rahul Gandhi's aim is to bring every state together and closer. He comes with a message of peace and every like-minded person should support him. We are in favour of democracy , rights of people and addressing alienation. Hence our participation," he added.
The participation of several opposition leaders of J&K, including Lal Singh -- former Congress minister who had left to join the Bharatiya Janata Party (BJP) and later formed his own outfit -- could lead to formidable alliance emerging in J&K against the BJP and it's allies in future.
The BJP and its allies are eyeing the chief minister's post in the elections which could be held in J&K in coming months. Though there is no clarity from the government side when the polls will be held, all arrangements have been made, especially after the delimitation exercise and publication of the final electoral rolls.
PAGD members, along with several opposition leaders of the country, will be sharing stage with Rahul on the culmination of the yatra.
"The main aim of this yatra is to unite people and an overwhelming response in Jammu has encouraged us all. In Kashmir too, thousands will line up along the national highway to receive Rahul Gandhi. We are hopeful that leaders of other parties will also take part in the yatra. Many have already consented," said former J&K Pradesh Congress president Ghulam Ahmad Mir, one of the coordinators of the event in J&K.
"This extensive yatra will conclude in Srinagar with a massive rally either on Sunday or Monday. All arrangements are in place," Mir said.
Rahul said that the Congress has already vouched for the statehood of J&K. "Here in J&K, statehood is your biggest issue. Nothing is bigger than it. Your right has been snatched," the former Congress president had said.
"The Congress will fully support you and your statehood (demand). To reinstate statehood, we will use our entire might," he had said.
At a press conference on Friday, however, AICC general secretary, in-charge communications, Jairam Ramesh refused to answer questions about the PAGD and Article 370.
As per Asem Mohiuddin, an editor in a weekly newspaper, "The upcoming contest in Jammu and Kashmir will be between two camps -- it will be the BJP and its distant allies against regional parties backed by the Congress. All they know is that they can't afford to take on the BJP, which has strengthened its cadre. They are well aware that only unity can help them in defeating the ruling party at the Centre."