Illegal structures raised by former MLAs, biz families demolished in J&K
Feb 01, 2023 12:21 AM IST
Jammu and Kashmir administration on Tuesday continued its anti-encroachment drive to retrieve state land from the alleged occupation of three prominent political and two business families, including owners of Srinagar's Nedou's Hotel
Jammu and Kashmir administration on Tuesday continued its anti-encroachment drive to retrieve state land from the alleged occupation of three prominent political and two business families, including owners of Srinagar's Nedou's Hotel, officials said.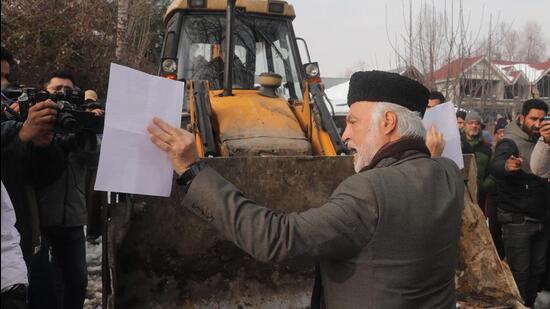 The demolition drive was conducted in south Kashmir's Anantnag district, where authorities retrieved land from the occupation of two former legislators and heirs of a former chief minister. The administration also razed structures in Srinagar allegedly constructed by two business families and retrieved 52 kanals of state land. The government took over the possession of a guest house in Pahalgam built on state land as well.
Officials said the district administration of Anantnag conducted an anti-encroachment drive on land 'illegally' occupied by Peerzada M Syed, who has remained state's Congress chief, and former education minister Syed Farooq Andrabi, who had also been legislator from Dooru in the past, besides heirs of former chief minister Syed Mir Qasim at Dooru.
"We retrieved around 20 kanals of land as the drive was targeted on influential people," said Dooru tehsildar Khalid Ahmad.
Peerzada had allegedly occupied one kanal of grazing land, Andrabi an orchard spread over two kanals and seven marlas, while 15 kanals of state land were under the occupation of kin of Qasim.
"The encroachers (Qasim family) had developed an orchard at the site which was being used to earn income by utilising public property," a government statement said. It said several such influential encroachers have been identified and the drive will continue.
In Srinagar, the authorities used bulldozers to demolish brick structures, tin boundary walls and tin sheds to retrieve 52 kanals of state land from two business families in Karan Nagar and MA Road areas.
"The revenue department recovered 40 kanals illegally occupied by Nedou's Hotel owner on MA Road, while 12 kanals of state land was retrieved at Karan Nagar," south Srinagar tehsildar Moin Kakroo said.
The Nedou's had constructed a tin shed allegedly over the state land which was demolished by the authorities.
Nedou's family said they received no notice from the authorities. "I told the tehsildar concerned to check our papers," a family member said.
National Conference founder Sheikh Abdullah's wife and mother of Farooq Abdullah, Akbar Jahan, was from Nedou's family.
A relative of Nedou's owners and Awami National Conference leader Muzaffar Shah, who lives nearby, said the land was on lease for more than 180 years.
"Nedou's had leased the land in 1835, when Maharaja had handed over this land to our ancestors. Wherever occupation is illegal, that should be removed but not where people have the land for hundreds of years and possess proper documents. These drives are being held out of political motives," Shah said.
Meanwhile, revenue authorities in south Kashmir's Pahalgam took over a guest house named Green Acker. The government said the guest house, an illegal structure, located on a prime piece of land at Laripora was raised by Bashir Ahmad Dar, former EO of municipal council and Manzoor Ahmad, former secretary of the council.
"Green Acker guest house was being used commercially for raking profits. It is in place to mention that the area has a large tourist footfall and is highly valued commercially," the government statement said.
The government is a statement said that 494 kanals of state land was retrieved in Srinagar. It said that the district administration launched a massive anti-encroachment operation in all tehsils to clear government land of the illegal occupants and retrieved over 494 kanals of prime land worth ₹ 509 crore from land grabbers.