Ludhiana: Over 500 aspirants appear on the first day of JEE Main
Published on Jan 25, 2023 12:04 AM IST
Students from Ludhiana, as well as neighbouring towns, appeared at the examination venues - Guru Tegh Bahadur Institute of Management Technology in Dakha and Guru Nanak Computer Centre in Janta Nagar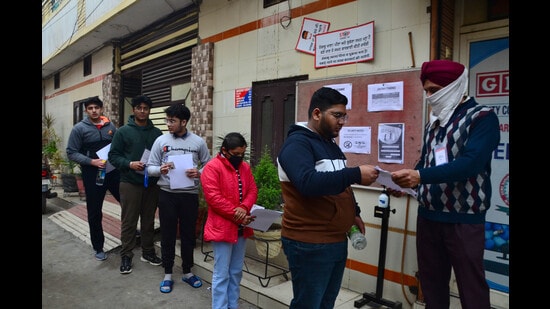 Over 500 students, aspiring to secure a spot in India's prestigious engineering and information technology institutes, appeared on the first day of the Joint Entrance Examination (JEE) Main being held at two centres in Ludhiana.
The first session of the JEE Main, which is conducted by the National Testing Agency (NTA), will take place for seven days. The exam will be held till February 1 in morning and evening shifts on different dates.
Students from the city, as well as neighbouring towns, appeared at the examination venues - Guru Tegh Bahadur Institute of Management Technology in Dakha and Guru Nanak Computer Centre in Janta Nagar.
The entry for the morning shift of 9 am to 12 pm was closed at 8:30 am, students had started coming from 7:00 am onwards. The 300 marks exam consists of as many as 90 multiple choice questions of physics, chemistry and maths. The students are required to attempt a total of 75 questions, 25 from each subject carrying four marks each.
As the examination venue was allotted based on availability and preference, a number of parents from neighbouring cities had come a day before to save themselves from any last-minute trouble. The evening shift of the exam was scheduled between 3 pm to 6 pm.
17-year-old Sumit Singh, who came from Hoshiarpur with his parents to appear for exam in the morning shift at the Janta Nagar examination centre, said he is preparing for the last two years and aims at getting admission to a computer science program in any of the Indian Institutes of Information Technology (IIIT's).
Class 12th student, Suryansh Verma, a resident of civil lines, said he prepared for the exam through self-study and found the exam to be a bit tough as the chemistry questions were a bit tricky. He added that the students who had thoroughly covered NCERT books could easily attempt the physics and maths portion of the exam.
A medical student, Manraj Singh said he is preparing for NEET (a pre-medical entrance test) and came to attempt the physics and chemistry portion of the exam as it overlaps with his syllabus and will help in analysing.
Online education platforms vs Offline coaching
A number of students who came to attempt the exam shared that there is an increasing trend among the aspirants, especially those in two-tier cities to subscribe to the ed-tech platforms rather than going for offline coaching.
Arvind Singh who aims to get admitted to the National Institute of Technology, Jalandhar, said he had subscribed to the online platform during Covid-19 and continued with the coaching as it offered flexibility and saved travel time.
Another student shared that he finds it hard to maintain focus and discipline at home, so he prefers taking offline coaching.
Computer Science remains the top preference of students
Tejpreet Singh, an educator, said in the last few years, students' craze towards computer science courses has increased in comparison to traditional courses including electrical and mechanical engineering. Elaborating on the reasons behind the trend, he added that along with higher packages during placements, the jobs in the information technology sector come with other perks, including remote work and flexible working hours.
After JEE Main, top 2,50,000 students from all over the country will be eligible for JEE Advanced.