MP Aujla stages protest alleging corruption in passport office
Updated on Jan 25, 2023 01:00 AM IST
Aujla alleged that he and Amritsar deputy commissioner contacted the regional passport officer, NK Shil, but he "declined" to listen or respond to the official communications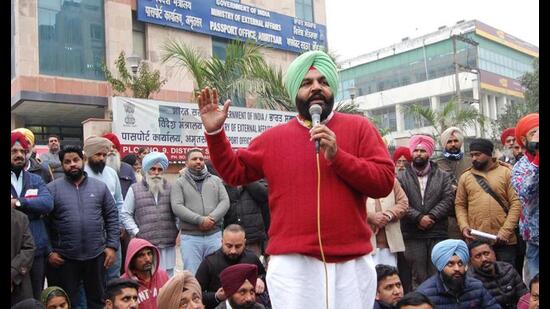 AMRITSAR: Member of Parliament from Amritsar Gurjeet Singh Aujla on Tuesday staged a protest outside the regional passport office, Amritsar, alleging corruption in issuance of passports, advancement of appointment dates and indifferent attitude of passport authorities towards applicants.
Aujla alleged that he and Amritsar deputy commissioner contacted the regional passport officer, NK Shil, but he "declined" to listen or respond to the official communications.
During previous regional passport officer's tenure, hundreds of issues related to applicants were resolved after the intervention of the office of the MP.
A memorandum alleging corruption in the regional passport office addressed to the minister for external affairs was submitted to through the deputy commissioner which was received by ADC (G) Surinder Singh.
Aujla said an aggressive campaign will be launched against the passport authorities concerned if they don't mend their ways.
Shil could not be contacted over phone. His PA Ankur said: "The regional passport officer was in Delhi to receive an award. He will respond to the allegations at a press conference in a day or two."