Panjab University's arts, languages departments worst-hit by faculty crunch
Updated on Aug 10, 2022 03:10 AM IST
For years, no appointment of teachers has been made in Panjab University despite many having retired; the last recruitment took place in 2014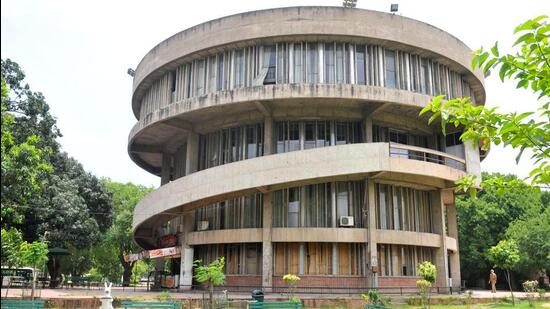 Panjab University (PU) has been grappling with faculty crunch for the past many years now and a majority of the varsity's arts and languages departments have been the worst-hit with some of them running on less than 30% regular teachers.
For years, no appointment of teachers has been carried out in the university with many having retired or some even re-employed at present. The last recruitment of teachers took place in PU in 2014.
According to data collected from departments, there are only seven teachers at the history department against the sanctioned strength of 15 and only six regular teachers in the political science department, where the total sanctioned positions also stand at 15.
Similarly, there are only two teachers each in the centre for social work, police administration, the departments of Gandhian and peace studies, and human rights. The first of those has a sanctioned strength of six, while the others five.
In the public administration and sociology departments, there are only four and five teachers against sanctioned strengths of 10 and 15 respectively.
Teachers in the humanities departments voiced their concerns over the state of faculty crunch faced over the years, with a faculty member of the sociology department saying, "The number of students has increased over the years. With few teachers, we are only able to offer basic courses and less focus is given to research and field work."
"The faculty crunch is seriously impacting the academic standards in the humanities departments. It also demotivates the new talent which is waiting for recruitment," said senator Priyatosh Sharma, who is also the chairperson of history department.
Also read: Amid faculty shortage, PU may opt for need-based recruitment
Languages departments in state of neglect
There are very few regular teachers in the university's languages departments, with some of the small languages departments having only one regular teacher at present.
The English department, which has 16 total teaching positions, has only six regular teachers at present. Worse off, there is only one teacher each in the Russian, Sanskrit and Urdu departments against sanctioned teaching positions of three, five and five respectively.
Speaking about the same, PUTA president Mritunjay Kumar said the departments cater to the society and should be considered as the strength of the University, adding, "The University should try to convince the government about the need for teachers. It may affect the university's performance in various rankings."
The education ministry, earlier this year, gave a green signal to PU for recruiting teachers — albeit without any additional financial commitment. The varsity had requested to fill around 85 teaching and over 300 non-teaching positions. PU had in November submitted information to the ministry regarding the financial implications of the recruitment process.
In 2017, it was decided that the teaching positions could be filled only after explicit permission from the Union ministry of education.
A query was sent to the official spokesperson but the university officials refused to comment on the matter.
Personalise your news feed. Follow trending topics