Malwinder Mali quits as adviser of Punjab Cong chief Navjot Sidhu
After Kashmir remark row, posts statement on FB: I withdraw my consent given for tendering suggestions to Navjot Singh Sidhu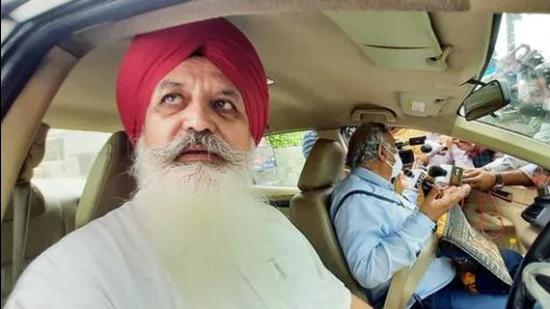 Updated on Aug 28, 2021 01:40 AM IST
Under fire for his controversial remarks on Kashmir, Malwinder Singh Mali on Friday quit as adviser to Punjab Congress president Navjot Singh Sidhu.
Mali, whom the PPCC president had appointed as his adviser on August 11 for "wise counsel", has given up the role. "I humbly submit that I withdraw my consent given for tendering suggestions to Navjot Sidhu," he said in a statement posted on his Facebook page.
Mali did not term it as his resignation and claimed, in another post in Punjabi, that the question of his resignation did not arise as he had never accepted the post.
He said that a hateful campaign against him by Capt Amarinder Singh, Vijay Inder Singla, Manish Tewari, Sukhbir Badal, Bikram Majithia and others. These politicians would be responsible if any harm was done to him, he said in the statement.
The voluble adviser quit the role a day after Punjab affairs in-charge Harish Rawat gave an ultimatum to Sidhu to remove his two advisers — Mali and Pyare Lal Garg — whose statements on Kashmir and Pakistan have embarrassed the party leadership.
In a Facebook post last week, Mali had said Kashmir was a "country of Kashmiri people" and called both India and Pakistan its illegal occupiers. In a separate post, he put a sketch of late Prime Minister Indira Gandhi standing near a heap of human skulls with a gun in her hand. Garg also criticised chief minister Capt Amarinder Singh for attacking Pakistan over Kashmir.
Amarinder, who was the target of Mali's regular digs, had asked Sidhu to "rein in" his two advisers, questioning their "atrocious and ill-conceived" comments that were potentially dangerous to the peace and stability of the country. However, Sidhu kept quiet, and the central leader had to issue the ultimatum amid mounting criticism from top leaders of the BJP and other parties on these sensitive issues.
A former government teacher, Mali was a student union leader who turned to journalism before taking up the government job during which he also served as a public relations officer in the chief minister's office in two different governments. Garg, a former registrar of Baba Farid University of Health Sciences, is a known social and health activist.
Close Story