Road carpeting in Chandigarh: Month before monsoon, only 10% work finished
Published on May 30, 2021 02:35 AM IST
Every year 20% roads in the city are to be carpeted, however, work was halted for a couple of years due to MC's inability to pay contractors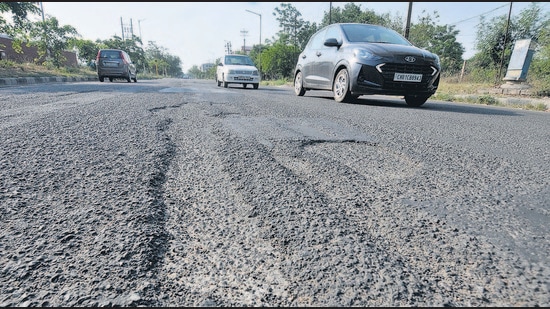 While city residents continue to suffer because of poor roads, the municipal corporation has completed only 10% of the road carpeting work for the current fiscal.
With monsoon expected to hit the city by June end, the road work will be suspended for another couple of months.
The civic body manages a road network of around 1,400km, among which V-6 roads (access roads to houses) are in the worst condition, according to residents.
Notably, every year 20% roads in the city are to be carpeted on a rotational basis. However, the work was halted for a couple of years due to MC's inability to pay contractors.
After the UT administration dedicated funds for the roads' maintenance, MC was able finally able to start work in 2020. But, with work from previous years piled up, its pace remains slow.
"Pending road carpeting and maintenance work from previous fiscals is nearing completion. For this fiscal, we have so far achieved 10% of the total road work," said Shailender Singh, chief engineer, MC.
A total of ₹80 crore is to be spent this year, including ₹40 crore on last year's work.
Bumpy ride: southern sectors worst affected
In a shambles for years, the roads have improved over the last year with MC resuming carpeting. But residents, particularly in the southern sectors, complain that in many areas the ride still remains bumpy.
Rajat Malhotra, president, Resident Welfare Association (RWA), Sector 45C, said, "The condition of roads in the sector is very poor. We have repeatedly taken up the matter with MC, but in vain. Though carpeting work has started, improvements have yet to be experienced in our area."
Residents of Sector 56 have a similar complaint. Joginder Singh, general secretary of the sector's RWA, said, "Some roads have been redone, but internal roads still require attention."
The quality of repair work is also being questioned by residents. SK Khosla, general secretary, RWA, MIG-I houses, Sector 40, said, "We have sought an inquiry into the poor patch work and carpeting of V5 roads (sector circulation roads). But, action is still awaited from MC or the administration. After repeated complaints, patch work is carried out selectively, but the overall condition of the road remains poor."
According to MC commissioner KK Yadav, they had prioritised work, first focusing on stretches which were in very bad shape. "We have set a target to repair all such roads before the onset of monsoon," he said.
Personalise your news feed. Follow trending topics