Spice of life: Spare a thought for students braving the chill for exams
Published on Jan 16, 2023 10:53 PM IST
My heart goes out to students whose winter has been made further miserable by the authorities. It's practically impossible to concentrate on studies in such conditions and research shows that productivity decreases when the environment is not conducive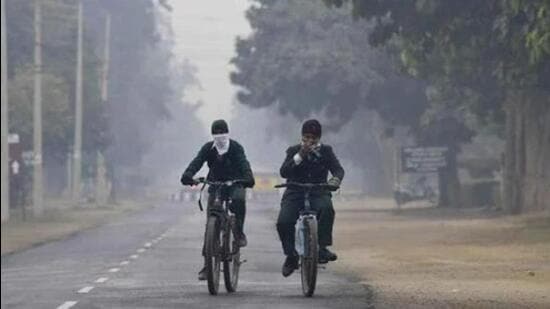 North India has been reeling under harsh winter with temperatures plunging from sub-normal to sub-zero. For years, it's become a regular feature for the sun to take a vacation for a week to 10 days with the maximum and minimum temperatures playing 'who's-the-younger-of-the-two'. These are days when the studious ones take solace by reading poignant quotes by George RR Martin, "Nothing burns like the cold" and George Herbert's "Every mile is two in winter", and the slightly crazy ones break the internet with "I can't get out of bed on days when the temperature is less than my age."
So, the other day when I saw my students streaming through the college gates rubbing their hands together and blowing upon them in order to keep them warm enough to go through three hours of rigorous writing for their semester exams, I actually pitied them. The cold is so intense that some of the students who come from distant villages on motorcycles or buses, first put up a bonfire by gathering twigs around the campus. Many of them wrapped up in 'loi (shawl)' can be seen thawing their frozen limbs around the fire.
My heart goes out to these youngsters whose winter has been made further miserable by the authorities. It's practically impossible to concentrate on studies in such climatic conditions and research shows that productivity decreases when the environment is not conducive. When we were young, schools and colleges used to shut down for winter vacation to save people from the vagaries of the weather. Similarly, there used to be a month-long summer vacation to avoid heat strokes.
Nowadays, a new trend has emerged in educational institutions. They close down officially for summer and winter breaks; however, they insist the staff/faculty be present on campus during the period, thereby ignoring the fact that vacations are supposed to be quality family time.
When we were students, annual exams were held in March and April and supplementary exams in September and October, months when the weather was comfortable for both studying and writing exams. These days, semester exams in colleges are held in December and January for the odd semester, and June and July for the even semester. The students brave chilly winters and scorching summers to appear for their exams. Many of them fall prey to the severe weather conditions and therefore, either miss exams or end up with a re-appear due to poor performance.
The apathy of the authorities is a direct outcome of policy-makers trying to implement corporate culture in academic spheres. They lose sight of the fact that students in many colleges across India come from diverse social backgrounds and unlike western society, educational institutions here are not centrally heated.
It's time the authorities gave a thought to this issue for as Edith Sitwell, the British poet, wrote, "Winter is the time for comfort, for good food and warmth, for the touch of a friendly hand and for a talk beside the fire: it is time for home." sonrok15@gmail.com
The writer is associate professor, English, SD College, Ambala Cantt