Twin blasts rock Jammu's Narwal, leave nine injured
Published on Jan 22, 2023 12:58 AM IST
The explosions, which security agencies suspect were triggered by sticky bombs planted on two cars, took place amid Congress leader Rahul Gandhi's Bharat Jodo Yatra and five days ahead of Republic Day celebrations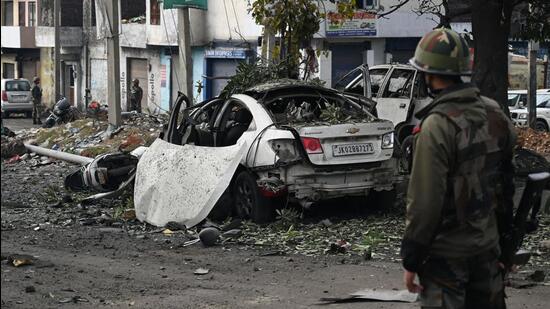 Nine persons were injured, one critically, in two back-to-back blasts at Jammu's Narwal area, about 5km from the Sunjwan army camp, on Saturday.
The explosions, which security agencies suspect were carried out through sticky bombs planted on two cars, took place amid Congress leader Rahul Gandhi's Bharat Jodo Yatra and five days ahead of Republic Day celebrations.
"Nine people have been injured and all of them are being monitored and needed medical interventions are been made," Jammu government medical college and hospital authorities said.
A senior doctor said, "One of the victims has undergone surgery for the splinter injuries he sustained in his stomach. He has been identified as Arjun Kumar, 28, of Qasim Nagar, whose condition is critical." The doctor said other victims have suffered minor injuries and are being tended by psychiatrists for post-traumatic stress disorder.
Additional director general of police, Jammu, Mukesh Singh, had earlier said, "Six people were injured in twin blasts at Narwal. First explosion took place in a car, injuring five people in its vicinity. They all are stable and have been shifted to hospital. The area was cleared, but then second blast occurred at a distance in which one more person was injured. The matter is being investigated."
Forensic teams have collected evidences from the blast sites, while police are scrutinising footage of CCTV cameras installed nearby.
The explosions occurred in an automobile market with shops of tyres, spare parts and car accessories.
An eyewitness, Gurnam Singh, said the car in which the blast occurred around 11.10am was brought in for repair.
"The second explosion took place at least 15 minutes later in a discarded vehicle," he added.
The Saturday blasts came 24 hours after Union minister of state for defence Ajay Bhatt's visit to a war memorial adjoining Narwal area, and two days before the scheduled public rally of Rahul Gandhi at Jammu's Satwari.
On January 1 and 2, twin terror strikes had rocked Rajouri's Dhangri village wherein seven civilians lost their lives.
On December 28, four terrorists travelling in a truck to Kashmir were killed in what security forces termed a 'chance encounter' at Sidhra, around 11km from Narwal.
Union home minister Amit Shah had on January 14 during his visit to Jammu said that security grid in the UT will be made impregnable within next three months.
LG condemns Narwal blasts, announces ₹50,000 to injured
Jammu and Kashmir lieutenant governor Manoj Sinha strongly condemned the twin blasts in Narwal and called for urgent steps to identify and take action against those responsible.
"Such dastardly acts highlight the desperation and cowardice of those responsible for the attacks. Take immediate and firm action. No efforts should be spared to bring the perpetrators to justice," he told the security officials.
He also offered heartfelt sympathies to those injured in the incident and also announced a relief of ₹50,000 each to them, the spokesman said.
Land mine found near army post in Poonch, destroyed
A land mine was found near an army post and subsequently destroyed in a controlled explosion in Jammu and Kashmir's border district of Poonch on Saturday, officials said.
The powerful explosive device, believed to be very old, was noticed by the army personnel near Makhi post in the Karmara area, they said.
It was safely taken to an isolated place by bomb disposal squad experts and was blasted in a controlled explosion without causing any damage, the officials said.
(With inputs from agencies)