₹

1.87 cr relief provided to 125 affected families in Joshimath: Uttarakhand govt

Jan 14, 2023 07:10 PM IST
Over ₹1
Over ₹1.87 crore interim relief was provided to 125 affected families in Joshimath by the Uttarakhand government, Ranjit Kumar Sinha, secretary of disaster management, said on Saturday during a press briefing on the Joshimath crisis.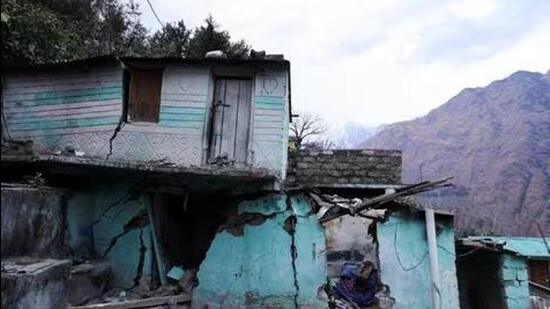 "Under the relief amount being distributed to the affected, at the rate of ₹5000 per family, a total of 73 families (total ₹ 3.65 lakh) were provided with the same. An amount of ₹13 lakh was also distributed to 10 affected families for acute/completely damaged buildings," Sinha informed the media persons.
As the demolition progressed further in the land subsidence town, Sinha said assistance in designing and building pre-fabricated buildings on the safe land of affected people is also being extended by the Central Building Research Institute (CBRI).
Also Read: Centre refutes theory linking Joshimath subsidence with NTPC tunnelling in draft letter
"One area/ward was declared unsafe in Gandhinagar, two in Singhdhar, five in Manohar Bagh and seven in Sunil," Sinha said.
"In view of the cold wave conditions, the district administration has also made arrangements for bonfires at 10 places in Joshimath municipality. Heaters were also arranged in the relief camps," he added.
Joshimath has a total of 615 rooms with a capacity to house 2190 people and Pipalkoti has 491 rooms with a capacity to house 2205 people.
According to the bulletin released by the state government on Saturday evening, the number of houses that have developed cracks has increased to 782, with 148 declared 'completely unsafe'.
So far, 223 families were shifted to safer locations including 40 families on Saturday. In total, 754 people were shifted to safer locations and relief camps.