Activists slam min's wild animal culling remarks in Kerala
Jan 19, 2023 12:20 AM IST
During an all-party meet in Wayanad (north Kerala) on Monday, Saseendran had said "Wild animals, including tiger that pose threat should be culled... lives of human beings matter".
The recent remarks made by Kerala forest minister A K Saseendran that the government will "explore all options including culling of wild animals" to avert recurring wildlife incursions into human habitats have not gone down well with nature lovers and wildlife enthusiasts.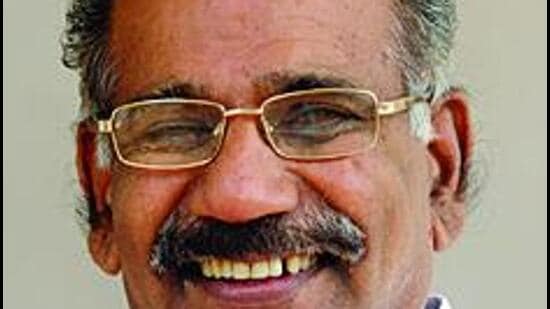 During an all-party meet in Wayanad (north Kerala) on Monday, Saseendran had said "Wild animals, including tiger that pose threat should be culled... lives of human beings matter". He also said the government will move the Supreme Court soon with a plea to "restrict population of wild animals", including tiger to de-congest the forests.
The minister's statement came in the wake of a farmer's death during an attack by a tiger last week in Wayanad. The area had observed a shutdown last week and the district administration had called an all-party meeting on Monday. In one year, six tigers were netted in Wayanad, one died later and remaining five are with the animal rescue centre.
"Experts said sterilisation of big cats is not possible. We have to de-congest forest to avert recurring attacks. Second option is culling. States like West Bengal had raised such a demand earlier. Human beings cannot be left to the mercy of wild animals," he had said.
Calling the minister's remarks "most irresponsible and uncalled for", the green activists said he was "playing to the galleries" without any scientific reasoning or study. They asked him to stop illegal quarrying, building of resorts and other activities in fringe areas of forests to ensure free movement of animals.
They said the national animal tiger was placed in Schedule 1 of the Wildlife Protection Act and as per the National Tiger Conservation Authority, guidelines for killing the animal was allowed "only in extreme cases as a last resort".
"A responsible minister should not make such remarks without any base or study. We have no idea who told the minister about the over population of big cats in Wayanad forests. He is playing to the galleries without any substance," said Wayanad Prakruti Samrakshana Simiti, an NGO fighting for green cause, president N Badusha.
"How can the minister become a spokesman of people resisting implementation of expert committee reports on Western Ghats? He is instilling more fear in local people," he said.
Badusha asked the minister to restrain illegal quarries and resorts in the district which has 60% green cover and was dwindling alarmingly in last few years.
"Now many plantations are turning into resorts automatically and infrastructure is expanding consequently. It is quite rampant in Wayanad and Idukki. We need a healthy co-existence of both, animals and human beings. It is natural for animals to get attracted to the crops in fringe areas of forests," said V S Vijayan, a member of the expert panel on Western Ghats headed by ecologist Madhav Gadgil.
He said monoculture farming (cultivation of a single crop in given area) and cash crops were putting undue pressure on the green cover. "Culling is not a solution. We need more studies on the reported increase in wild animals' population. It is sad people arrive at conclusions without any study," said another wildlife expert E S Esa.
But the minister justified his statement later saying it was the duty of the government to protect its people. "Many states had approached the Centre to restrict the number of multiplying animals. It is an accepted norm all over the world," he said.
According to the forest department data, over 88,000 cases related to human-wildlife conflict were reported in the state in last one-and-a-half-year (June 2021 to December 2022) and 123 people lost their lives. Among dead, snake bites claimed maximum 64 lives, elephants 42, tiger and leopords eight and rest were killed in bison, wild boars and other animal attacks.